Condo Fan Coil Repair, Maintenance, Retrofit & Replacement Services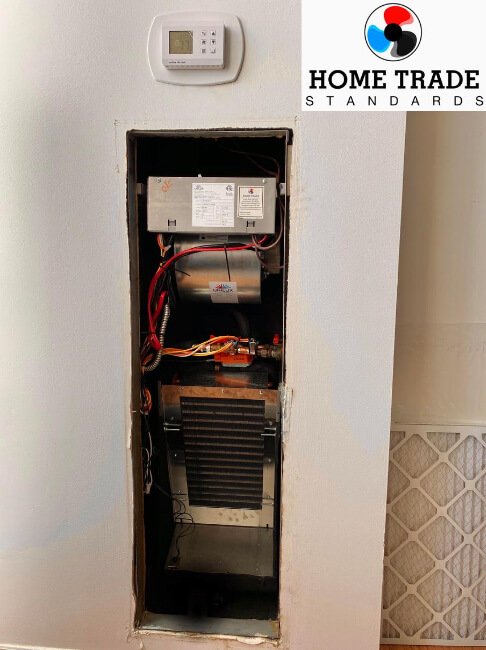 Home Trade Standards Provides Condo Fan Coil Repair, Maintenance, Retrofit and Replacement In Toronto & GTA. Annual Condo Fan Coil Maintenace is typically arranged by property managers and condo boards. Building residents will be notified prior to the scheduled dates. Annual Condo Fan Coil Maintenance involves replacing Air Filters to ensure proper airflow. We would also vacuum the condensation drain pan to reduce the risk of a clogged drain and flooding possibility. In addition, the drains can be air pumps once they are cleaned in order to push all the dirt down and prevent drain blockage. It is highly recommended to do a water leak test at the end of the inspection to ensure the drain does not overflow with condensation water in the future.
Home Trade Standards has a designated team of technicians for all Condo Fan Coil Maintenance & Repair Services in Toronto & GTA. All of our clients receive a 1-Year Work Guaranteed on all fan coil repairs & maintenance services. We work directly with Individual Condo Owners & Property Managers.
Our Condo Fan Coil Technicians are Insured & Certified to provide the following condo Fan coil Services:
Condo Fan Coil Inspection & Report
Condo Fan Coil Repair Services
Condo Fan Coil Maintenance (Annual & Semi-Annual)
Fan Coil Retrofit & Replacement
Fan Coil Mould Remediation
New Fan Coil Installation
Fan Coil Thermostat Repair & Replacement
Here Is Why Our Clients Call Us For:
Fan Coil Is Not Blowing Hot Air
Fan Coil is Not Blowing Cold Air
No Airflow Or Insufficient Airflow
Strange Smell or Odour
Fan Coil Excessive Loud Noise
Mould, Excessive Humidity Dust In Fan Coils
Fan Coil Retrofit & Replacement
Thermostat Malfunction
Rooms Are Too Hot or Too Cold
Fan Coil Inspection Before Purchasing a New Condo
Click Here To Learn More about 6 Ways To Eliminate Excessive Humidity & Condensation Levels In Your Condo?
---
Condo Fan Coil Repair Services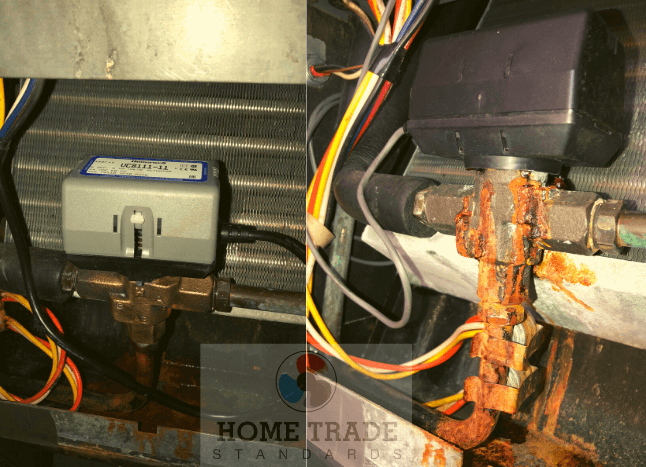 Condo Fan Coil Units are not part of common heating & cooling elements in most condominiums. That means it is the individual condo owner's responsibility to do Fan Coil Repairs in case of a sudden breakdown.
Condo Fan Coil Unit Not Heating or Fan Coil Unit Not Cooling
Condominium residents or office buildings with Fan Coil Units often notice air quality problems due to insufficient heat or cool distribution in their units. If you have trouble with your Fan Coil Airflow, Temperature, or Indoor Air Quality in your home or place of business, please schedule an appointment with our Fan Coil Technicians for professional fan coil troubleshooting.
We service all Horizontal & Vertical Fan Coil Systemsregardless of make or model. If you are experiencing, Noise, No Heat, No Air Conditioning Situations, Please simply contact your local Home Trade Standards To Book an Appointment Today!
Condo Fan Coil Retrofit & Replacement In Toronto & GTA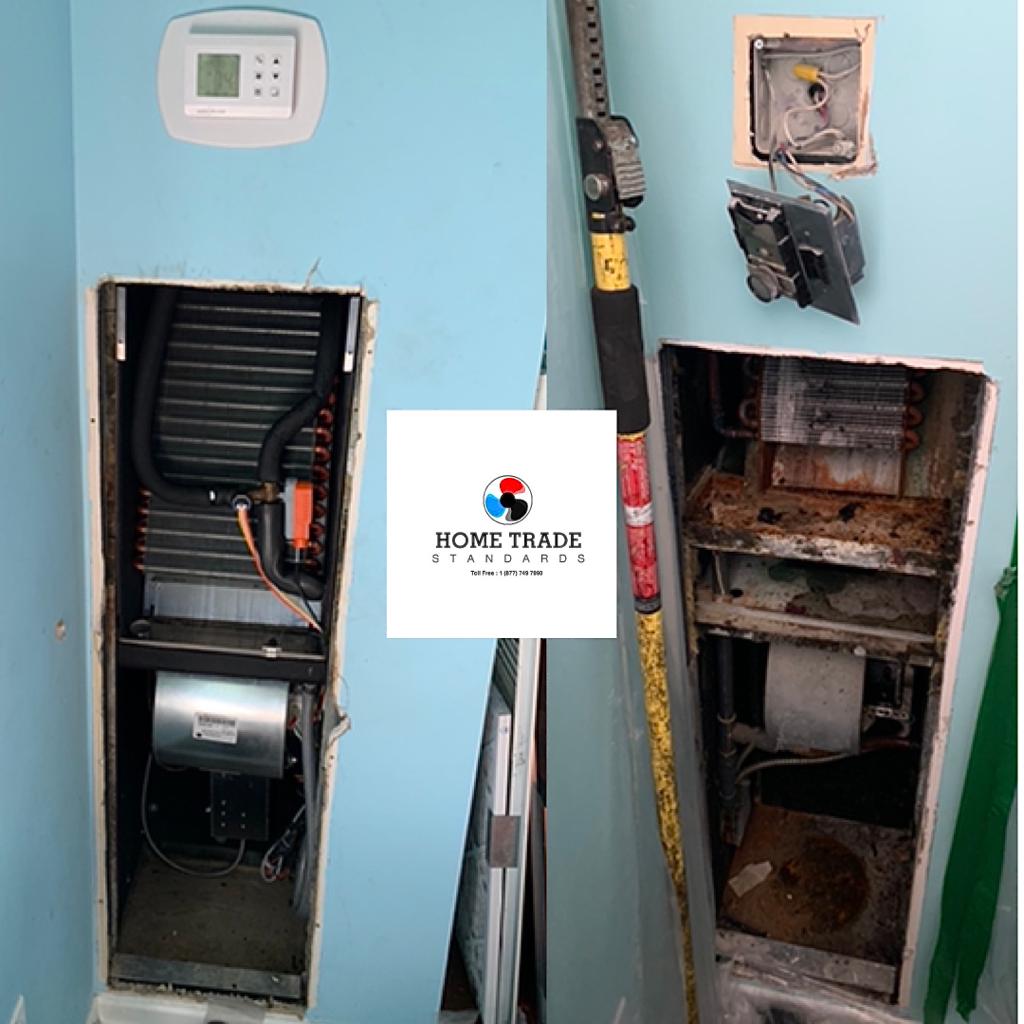 If you need to upgrade your Coil Fan Unit but don't want to engage in extensive renovation and damage the surrounding walls, get your condo coil fan retrofitted! Fan Coil Retrofit will replace your unit without having to remove the cabinet by sliding into the existing cabinet. No more need for costly damage to the unit or space where the coil unit is installed, making it a quicker – and easier choice.
Fan Coil Units in older buildings require part replacements over time due to rust, corrosion and general wear and tear. Existing fan coils can be removed without damaging the surrounding area. The replacement fan coil units are made to insert the same cabinet in a shorter time frame allowing us to replace all the inner insulation and system components more quickly and efficiently.
2 Pipe & 4 Pipe Fan Coil Heating & Air Conditioning Systems
There are two Types of Fan coil units in Condominiums in Toronto & GTA.
Two-pipe fan coil units have 1 supply and 1 return pipe. The building management typically decides to supply either cold or hot water depending on the time of the unit. This type of fan coil system is more common in the condominium building in Toronto & GTA Area.

Four-pipe fan coil units have 2 supply pipes and 2 return pipes. This allows users to have both heating and cooling at any given time all year round.
Two Pipe and Four Pipe Fan Coil Systems have different specifications and design methods. most condo buildings in Toronto use 2 pipe fan coil systems.
Condo Fan Coil Replacement Costs In Toronto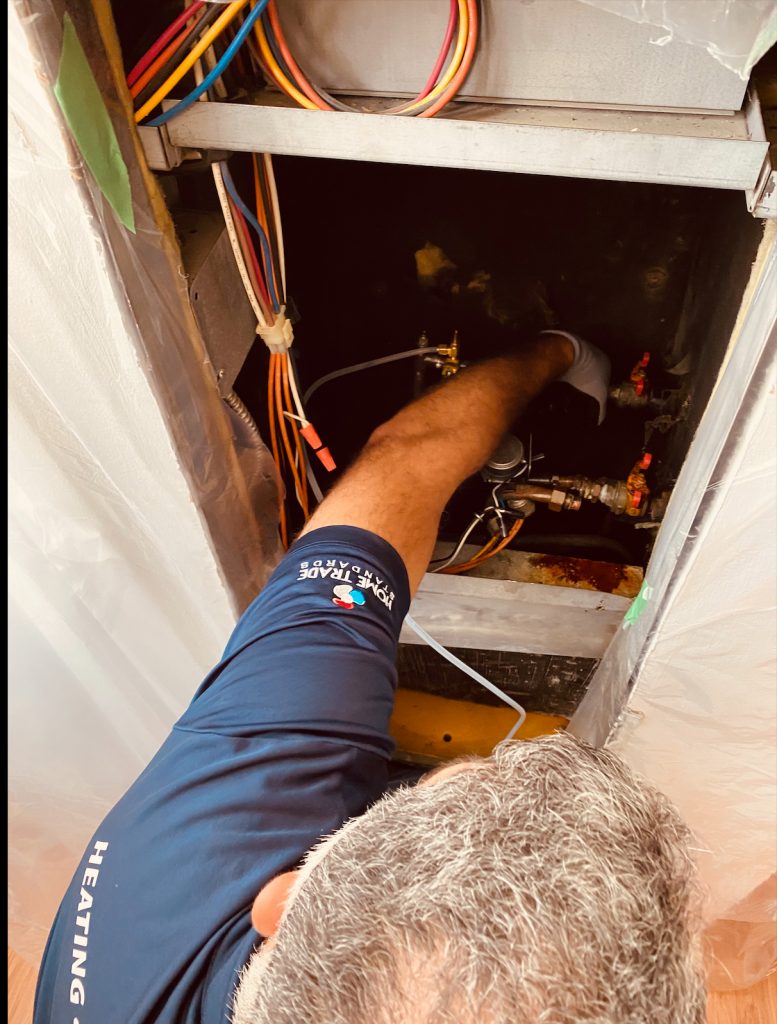 Condo Fan Coil Replacement Costs can vary from one building to another. Every condo is unique and every unit has a particular retrofit specification. Most Condominium Managements have a reserve fund designated for building retrofits and renovations. Fan Coil Retrofit & Replacement can cost from $2800 to $4000 per unit in a high-rise condominium building in Toronto & GTA Area.
We work directly with Fan Coil Retrofit Manufacturers such as Unilux VFC to deliver the most cost-effective Condo Fan Coil Retrofit Services in Toronto & GTA area. Our services are as follows:
Building Engineering Analysis
Project Feasibility
Evnivorinemnt Benefits Such as Mould Remediation & Removal
Cost Estimate & Projection
Condominium HVAC Retrofit Financing
Post-Sale Fan Coil Service & Warranty
If your building is older than 20 years old, please contact us directly to schedule an appointment for an onsite engineering assessment. We work closely with condo board members and residents to deliver the most reliable Condo HVAC Services in Toronto & GTA Area.
Fan Coil Thermostat Types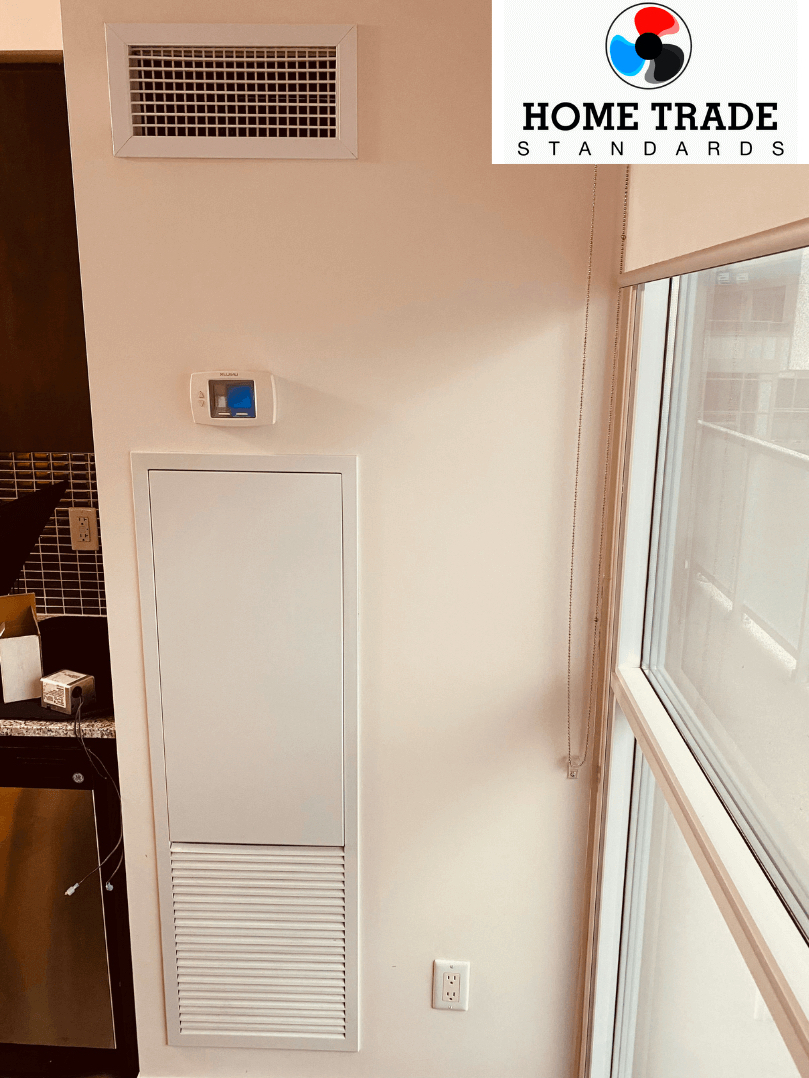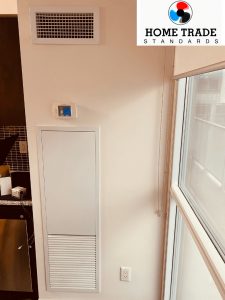 Home Trade Standards offers Fan Coil's Thermostat repair & installation Services in Toronto & GTA Area. Fan Coil Units are not compatible with 3 types of Thermostats:
Analog Thermostat
Digital Thermostat
Wifi Thermostats
Most Condominiums use Honeywell Thermostat to control all heating and air conditioning on fan coil systems. Honeywell offers the best digital fan coil thermostats for fan coil horizontal and vertical fan coil systems. The fan Coil's thermostat can be controlled using Wi-Fi capabilities. You can simply control the temperature of your house with your smartphone, tablet, or computer. For more information on how to add our Wi-Fi program to your fan coil system, please contact the Home Trade Standards Service department.
Call Us Now (416) 736-7001
Home Trade Standards offers 24 hours live support for new & existing clients across Toronto & GTA.
What Our Clients Say About Us
Frequently Asked Questions (FAQ) About Fan Coil Systems In Toronto Condos
Looking for a High Rise HVAC Specialist?
Home Trade Standards is a leading high rise HVAC service company for condos & apartments in Toronto and GTA. Simply Contact us today to book your next service!
Our Service Coverage Areas
Contact Us
Home Trade Standards proudly provides complete HVAC solutions for Condominium High Rise Appartments, Commercial Buildings and Residential Homes in Toronto & GTA Area.
3983 Chesswood Dr, North York, ON M3J 2R8
What Our Clients Say About Us