Commercial HVAC & Rooftop Unit Repair & Installation Services in Toronto & The GTA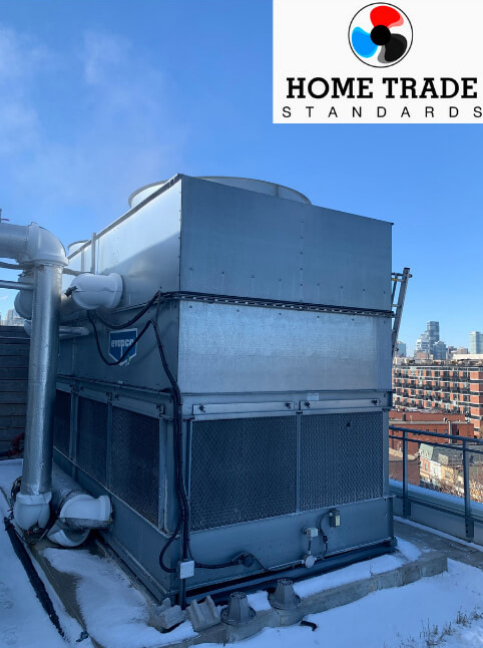 Commercial HVAC Units are important heating & cooling elements used in commercial building establishments in Toronto & the GTA. Most commercial HVAC manufacturer part warranties end after 10 years and a sudden breakdown can be very costly. Imagine yourself in a building with no heat or cooling for a day or a few days. Your customers & employees will start to feel uncomfortable & frustrated using your space for business or pleasure. Also, remember new rooftop heating & cooling systems are built more efficiently compared to older units 10 years ago. Here are the best commercial rooftop HVAC unit manufacturers:
York Rooftop Units (3 to 65 Ton)
Lennox Rooftop Units (3 to 450 Ton)
Daikin Rooftop Units (3 to 140 Ton)
Trane Rooftop units (3 to 162 Ton)
Carrier Rooftop Units (3 to 150 5on)
We highly recommend you begin investigating your options now and not to put your business in danger of no heat or no cool situations when there are signs of malfunctioning units. By planning an upgrade for your commercial HVAC unit before major issues arise you can ensure a smoother transition to a brand-new system that costs less to run. Contact our experts today to see which option is best for your commercial building!
Commercial Packaged Rooftop HVAC Unit Repair & Maintenance Services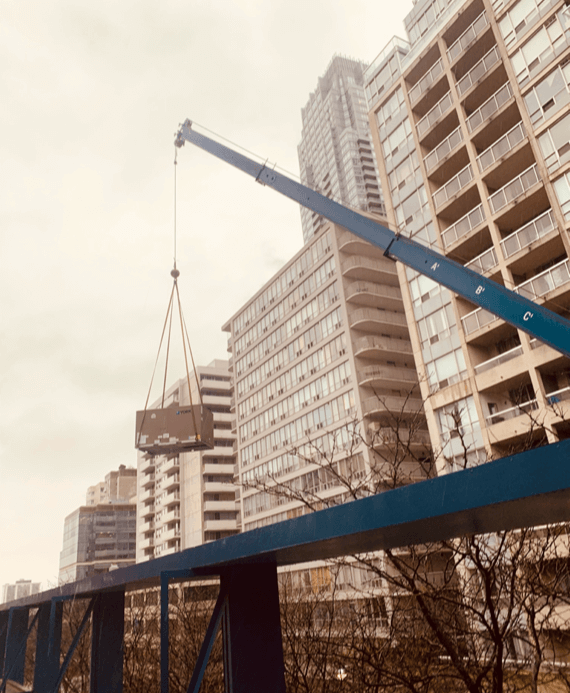 A Packaged Rooftop Unit (RTU) is an HVAC system that contains all the parts needed to deliver air conditioning in one clear package. Packaged Rooftop Units are common commercial properties of all sizes, particularly retail and industrial properties. Packaged rooftop units generally contain the following components:
Evaporator
Compressor
Expansion Device
Air-cooled Condenser
To ensure that your commercial property is kept cool and comfortable, you want to make sure your packaged rooftop unit is regularly maintained. Problems can arise suddenly and can be expensive to repair, so regular maintenance is the best way to prevent costly issues. In the event that your packaged rooftop unit does need repairs, the Toronto & GTA HVAC experts are here to get the cool air back to running as soon as possible.
Common Commercial Rooftop Units Repair Services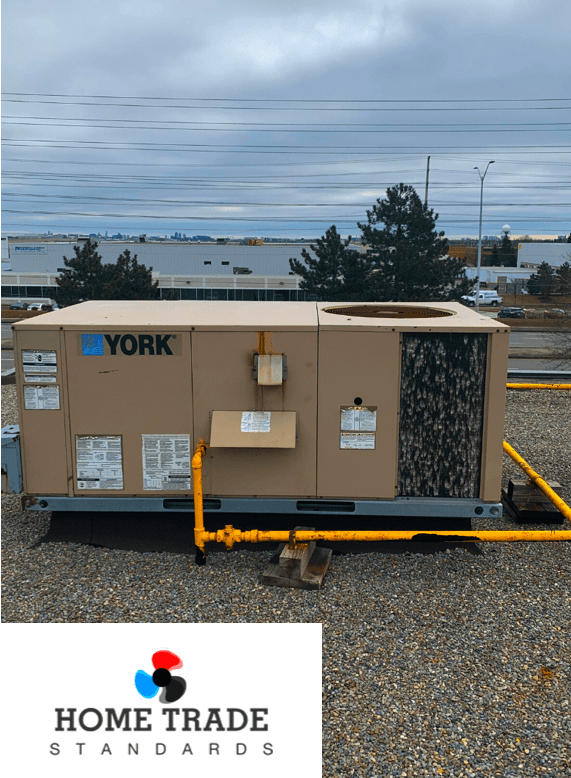 Home Trade Standards specializes in Commercial HVAC Rooftop Unit Repair & Installation Services for all sizes of projects. Our team of experienced Commercial HVAC Technicians are trained & licensed to help you with your Business Heating and Air Conditioning needs. Our Commercial HVAC Services include the following:
Commercial Rooftop HVAC Repair Services
Commercial Rooftop Unit Annual Maintenance
Commercial Packaged Rooftop Unit Installation
Packaged Rooftop Unit Part Replacement & Upgrade
Commercial HVAC Engineering Analysis & Consultation
Commercial Rooftop Unit Inspection & Report
Rooftop HVAC Free Estimate & Sales
Offices – Hotels – Restaurants – Warehouse – Buildings
Commercial Rooftop HVAC Replacement projects are unique and require a thorough engineering evaluation and analysis. Commercial Rooftop Units are also known as Packaged Rooftop Units. These HVAC systems are the most common Commercial Heating & Cooling Systems in offices, restaurants, warehouse & hotel buildings. We service all major Commercial Packaged Rooftop Units such as York, Daikin, Trane, Allied, Carrier & Lennox, Keeprite & Ruud.
Regular Commercial Packaged Rooftop Units Maintenance & Protection Plans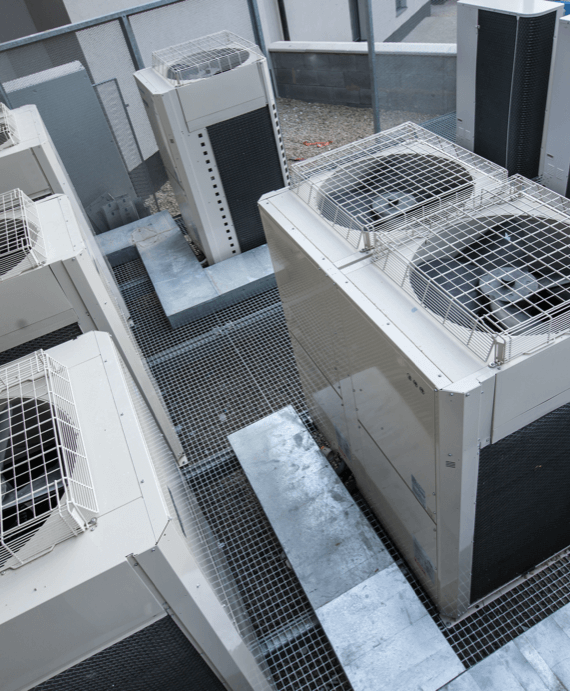 If you are operating a commercial space, you want to make sure that everything runs smoothly and your customers and employees are comfortable and safe inside your building. For commercial applications such as restaurants, warehouse hotels, offices & similar commercial properties it is recommended to undergo regular maintenance. We recommend:
Changing the Rooftop Unit Filter at least once every 12 weeks, depending on your customer traffic and filter type.
Routine maintenance prior to every season
Regular inspections to spot problems before they get out of control.
Our team is fully Licensed and Insured to deliver Commercial HVAC Repair & Installation Services in Toronto and the GTA. Our Commercial HVAC Technicians also provide Regular Rooftop Maintenance services on all major Rooftop HVAC Systems you currently use or wish to use.
Commercial HVAC Red Tag Removal Service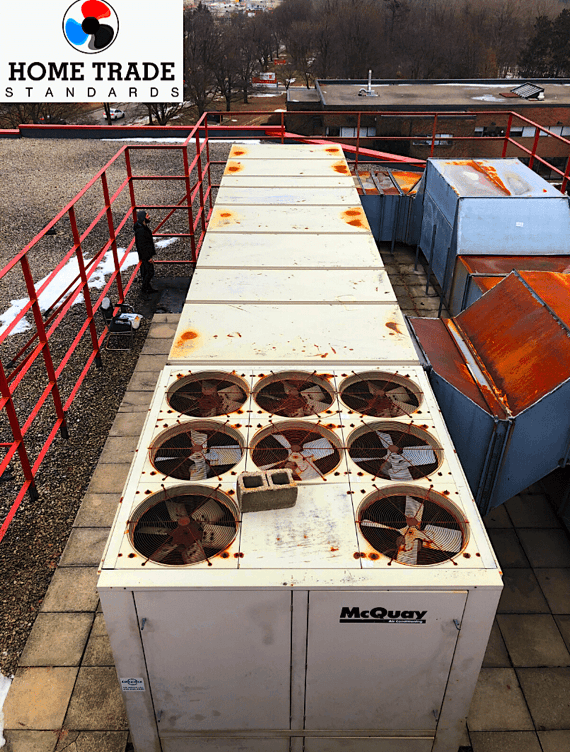 Red Tag Warnings can be issued by gas utility providers such as Enbridge or Licensed Gas Fitter Technicians upon inspecting an unsafe gas appliance. If your Commercial HVAC system is deemed longer safe to operate due to the chance of Carbon Monoxide Leaks you will need to repair or replace it. These warnings are designed to ensure the health & safety of the people in residential & commercial properties. Depending on the type of Red Tag warning you receive, different actions might be required. Red Tag warnings come in 2 types:
Type A – Your unit has been identified as an immediate danger and will be immediately turned off. The unit must be repaired or replaced before it can be used again.
Type B – Your furnace does not pose an immediate danger, and the local utility will be notified. You will have 30 days to have the equipment repaired or replaced.
If you need your Commercial HVAC unit to be removed after receiving a red tag, contact Home Trade Standards. We will be able to safely remove your rooftop unit and help you understand what your choices are moving forward. Don't hesitate, contact the Toronto and GTA HVAC Pros today!
What Our Clients Say About Us
Frequently Asked Questions
Looking for a High Rise HVAC Specialist?
Home Trade Standards is a leading high rise HVAC company for condos and apartments in Toronto and GTA. Simple Contact us today to book your next service!
Our Service Coverage Areas
Contact Us
Home Trade Standards proudly provides complete HVAC solutions for Condominium High Rise Appartments, Commercial Buildings and Residential Homes in Toronto & GTA Area.
3983 Chesswood Dr, North York, ON M3J 2R8