Condo Heating Systems In Low Rise Apartments & High Rise Residential Buildings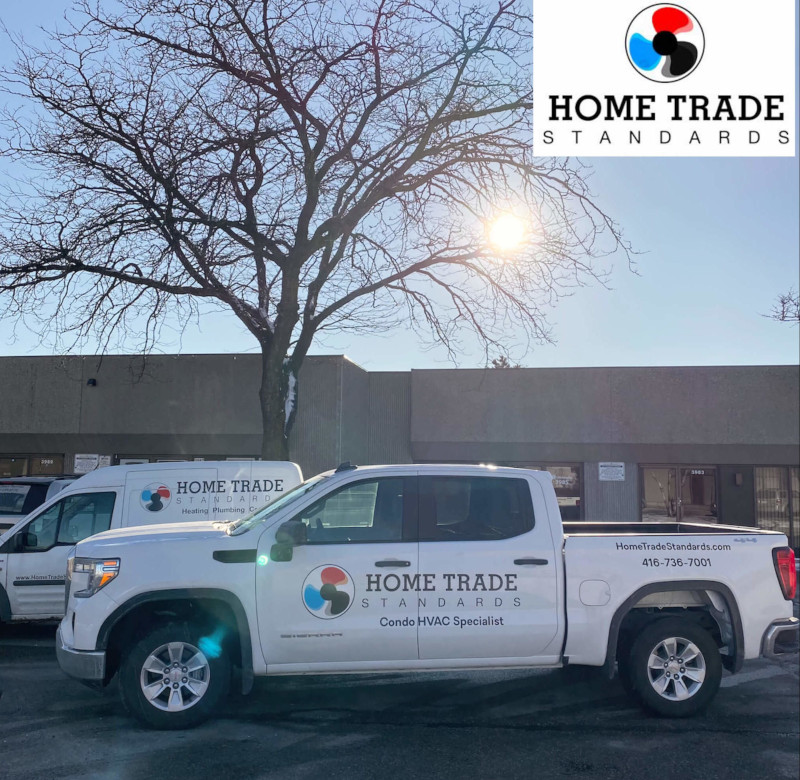 Home Trade Standards is an In-Suite Heating, Air Conditioning & Ventilation Service Provider for all major Condo Heating Systems in Toronto & The GTA. Our specialists are certified to work on any heating system that can be found in a condo unit in Toronto! If you are looking for repair, replacement, or maintenance services for your condo heating unit then you have come to the right place!
Our Services Are Used by Condo Boards, Property Managers, Superintendents, Landlords & Tenants. Our HVAC Experts Provide The Following HVAC Services in High Rise & Low Rise Buildings:
Emergency HVAC Repair
Annual HVAC Maintenance
HVAC Replacement & Installation
HVAC Retrofit & Remediation Services
Types of Buildings Where We Provide HVAC Services
We Are Licensed & Bonded To Service In-Suite HVAC Systems In:
Condo Buildings
High Rise Apartment Buildings
Low Rise Apartment Buildings
Rental Properties
Loft Suites
Commercial Offices
Retirement Homes
Hotels
The 6 Most Common Condo Heating & Air Conditioning Systems In Toronto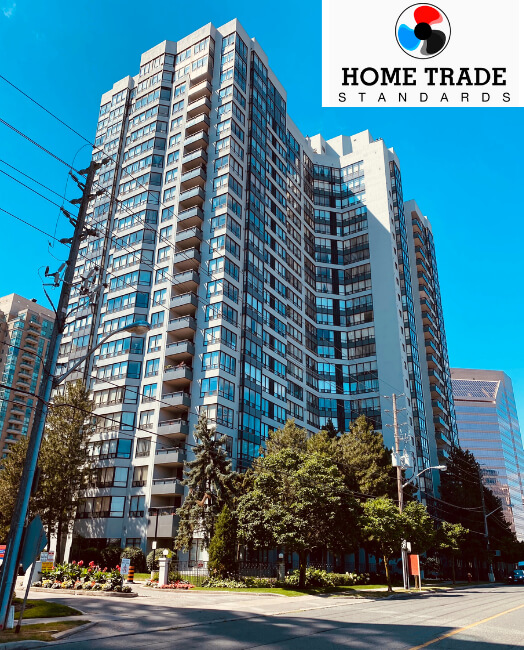 If you live in a low rise or high rise condo in Toronto & GTA, you may be using one of the following Heating or Air Conditioning Systems:
1. Condo Fan Coil Unit
Fan Coil Systems are the most commonly used HVAC units in both low rise and high rise apartments in Toronto & GTA. Fan Coil units can be designed in a horizontal and vertical orientation. They are centrally controlled by the building management via a boiler or chiller. This means that you can not switch from heating to cooling in some months of the year unless the Building Central HVAC system manually switches from heating to air conditioning or vice versa. Fan coil units are typically built with 2 pipes. 1. Supply 2. Return for cold or hot water depending on the season.
Some Fan Coils are designed with 4 pipes. These types of fan coil systems are able to supply heating and cooling all year round because they can bypass cold or hot at any time. Energy consumption is higher for these types of fan coil units.
2. Condo Heat Pump System
Heat PumpSystems In Condo aka Water Source Heat Pumps is designed in both horizontal and vertical models. In Toronto & GTA Area, we often see vertical stack heat pumps in residential high-rise condominium suites. Normally commercial condo high-rise buildings use horizontal water source heat pumps due to space limitations in offices. Heat Pump systems are capable of switching from heating to cooling or air conditioning to heating all year round controlled by an in-suite thermostat. These systems are usually installed through the walls just like fan coil systems.
3. Condo Magic Pak
Magic Pak Systems are Package HVAC Units aka Condo Pack. These systems are pretty similar to residential gas or electric furnaces however they have both heating & air conditioning constructed in one unit. They are built-in electrical and gas models. Gas and electric Magic Pak Systems allow year-round in-suite heating and cooling capability for more comfort in residential properties. These systems are often found in condos and high-rise buildings. The most commonly Used Magic Pak Systems are HWC gas models. Annual Magic Pak Maintenance is highly recommended to ensure there is no gas leak prior to using the unit in the winter season
4. Packaged Terminal Air Conditioning or PTAC
PTAC Units or Hotel Style Air Conditioning Systems are also package units that provide heating and air conditioning options all year-round. These systems mostly use the auxiliary electric system for heating and heat pumps for air conditioning. Some PTAC units in Toronto Condominium use natural gas for heating.
5. High-Velocity Air Handler Systems
High-Velocity Air Handler Systems consisted of two components. The Condenser (Outdoor Unit) is normally located on the balcony or rooftop. The Air Handler (Inside Unit) is located inside your suite apartment. These systems are mostly installed in newer built townhouse residents in Toronto & GTA.
6. Ductless Heat Pump Heating & Air Conditioner
Ductless Heat Pump or Air Conditioning Mini-Split Systems Are great HVAC Systems that can be added as a secondary source of heating or air conditioning in a high-rise or low-rise buildings with no pre-existing Central HVAC Units.
7 Common Heating & Air Conditioning Problems In Condos & Apartments
To get the best out of your Condo Heating & Air Conditioning System, make sure you get it regularly maintained. Regular condo HVAC maintenance not only ensures your system and units last longer Here are the 7 Common Condo Heating & Air Conditioning Problems:
HVAC System Blowing No Heating or No Cooling
Unusual Rattling Noises
Poor Indoor Air Quality or Insufficient Airflow
Thermostat Glitches Not Reaching the Desired Temperature
Condensation Issue & Flooding
Lack of Proper Maintenance
Mold Issues
Top 10 Heating & Air Conditioning Questions If You Live in a Condo In Toronto or the GTA
1. Who Is Responsible For HVAC Units In Condos?
Most condo residents in Toronto & GTA area are individually responsible for all in-suite emergency repair & replacement work. Property management is typically only responsible for arranging annual HVAC maintenance such as filter change, drain check, and basic cleaning inside your system. To find out more about your condo, you should refer to the declaration in your condo bylaws. This can be usually obtained from your property management. Home Trade Standards offers Condo HVAC Repair & Maintenance Services In Toronto & GTA Area. You Can Simply Contact Us For All Condo Service-Related Inquiries.
2. How Is My Condo Heated?
Your condo can be heated using Natural Gas, Hot Water Heating, or Electricity. Each high rise condominium in Toronto has a unique in-suite HVAC system and the temperature can be individually controlled using your thermostat.
3. How Come I Can't Use Heating & Air Conditioning in All Seasons?
This is due to the type of in-suite HVAC system, you are using in your condo. Fan Coil Systems are controlled using a central system. The property management decides when to turn on the heating or air conditioning. If you own a heat pump, magic pak, PTAC, or air handling system in a condo then you can use heating & air conditioning in all months and seasons of the year.
4. When Does My Condo Switch From Heating to Air Conditioning or Vise Versa?
Most condo managements do a change over from heating to air conditioning in early or mid-may. Similarly, in wintertime managements do a changeover early or mid-October after thanksgiving. Normally, the management will post a notice in the common area to notify the residents.
5. Can I Hire My Own Contractor To Do HVAC Renovation In My Condo?
Although most condo building managements work with a preferred building contractor, you are allowed to hire any Condo HVAC Specialists of your choice when it comes to in-suite HVAC replacement or repair.
6. How Often Do I Need To Change My Filter In a Condo? Where Do I Buy a New Filter?
We recommend all of our clients to replace their HVAC filter every 3 months prior to each season. Most Condos In Toronto keep extra filters at the concierge desk and you can easily purchase a new filter from the security desk.
7. Why Is There a Leak From The Higher Floors?
One of the common reasons for water leaks is due to clogged drain in the higher floor. All HVAC systems are equipped with a drain pan and condensation line to remove the excessive water. Rusty Drain Pans, Lack of proper maintenance, and clogged drain cause drain pan to flood water onto the suites below.
8. I Live In a Brand New Condo. Is My HVAC System Under Warranty?
Tarion administrates Ontario home builders to ensure they follow all regulations and new home warranty acts. According to Tarion, your In-suite Condo HVAC System is insured against repairs & mechanical failures up to 2 years after the construction is finished. You can reach out to your property management in writing if you are experiencing problems with your Heating & A/C.
9. Do I Need Approval From My Property Management or Condo Board Before I Upgrade My Condo HVAC System?
Heating & Air Conditioning Systems are not part of the common elements in condominium apartments. If you decide to replace or retrofit the existing HVAC system in your condo, you can work with the condo HVAC company of your choice as long as they are licensed & insured.
10. How Long Do HVAC Systems Last In a Condo?
Depending on the system you are currently using, here is the average life span of each HVAC unit in a condo:
Fan Coil Systems: 15 to 25 Years
Condo Heat Pumps: 7 to 15 Years
PTAC Units: 10 to 15 Years
Condo Magic Pak or Condo Pack: 12 to 18 Years
Air Handlers Units: 12 to 18 Years
If You Are Experiencing Heating & Air Conditioning Issues In Your Condo, Simply Call Home Trade Standards At (416 736-7001). Our Licensed Condo Experts Will Be Happy To Serve Your Needs.
What Our Clients Say About Us