5 Best Air Conditioners Brands in Toronto – 2022 Update
Home Trade Standards is a team of experienced HVAC technicians providing air conditioner installation, repair and maintenance services for residential & commercial buildings in the Toronto & GTA area.
There are a lot of air conditioning manufacturers in the market. It is confusing to choose between so many options and brands. Although every brand and manufacturer has unique reviews, you can also visit our online shop to compare different models and learn more in-depth about each system. If anything sounds or looks confusing, please simply contact us at (416)- 736-7001 to speak with our qualified technicians.
What Are The 5 Best Air Conditioning Manufacturers In Toronto? – 2022 Update
There are many air conditioning manufacturers in the market. Now how can you choose between so many options? Well, we are going to elaborate more about each brand, pricing, availability and serviceability.
Amana
Trane
Lennox
Goodman
Carrier
What Air Conditioner Brands Home Depot, Costco, Enercare & Reliance Use To Install?
Trane, Lennox, Carrier, Goodman & Amana offers top-line air conditioning and furnace HVAC systems. These 5 manufacturers have a proven design for many years and the most well-known product line.
Costco Uses Lennox
With 102 Warehouse, Costco is one of the biggest retail stores in Canada. The in-house HVAC contractor at Costco uses Lennox as their primary HVAC brand when it comes to heating and air conditioning systems.
HomeDepot Uses Trane
Homedepot one of the biggest improvement retail stores with over 182 stores across Canada uses Trane for many years to walk in-store clients across Canada.
Enercare & Reliance Home Services Use Carrier, AMANA & Goodman
Carrier Amana & Goodman are most commonly used by the Two giant HVAC companies Enercare and Reliance for many years. Amana and Goodman have the highest market share across Ontario & Canada.
Why Home Trade Standards?
Home Trade Standards is a one online stop shop with fixed prices and no hidden fees. Typically, most HVAC companies have to send a salesperson to your home to evaluate and provide you with a price. After doing years of research and watching big companies playing with prices in the market, we found out that consumers will benefit have an online store and be able to compare flat-rate pricing as opposed to getting confused after receiving 3 to 5 different quotes and proposals. We understand that there might be different needs and requirements for each customer. Our customer service team facilitates all those requirements to ensure the end result is aligned with your needs. Call us today and let us know what you have in mind. We are happy to help!
Average Price For Air Conditioning Installation In Toronto & GTA
$2,500 – $7,000 (including installation)
To understand the big difference in price, let's split all Air Conditioners into 3 different tier systems:
Basic or Entry-Level Models: $2,500 to $5.000 Plus Tax
Classic or Mid-Range Models: $5,000 to $6,500 Plus Tax
Premium Range Models: $6,500 & $8,000
Notes: Prices Above estimates for Air Conditioning Units From 1 Ton To 5 TON.
Spending more money on the highest-tier models does not necessarily mean that you are getting the best value for your home. We highly recommend a licensed contractor to inspect your home and help you with these selections. Sometimes, you may not need all the features associated with the premium or mid-range tier and you could still get the best value out of an entry-level air conditioning system.
3 Factors That Affects Air Conditioning Installation Pricing
1. Size of Your Home: Air Conditioning Systems can range from 1.0 TON To 5 TON Depending on How Your Home Is Build & Design. In HVAC Space with use the BTU or TON to determine the size of an Air conditioning system Each TON is 12,000 BTU.
We need to convert BTU to tonnage. 1 ton equals 12,000 BTU. That means that, on average, we will need 0.0016 tons per square foot.
"…an air conditioner generally needs 20 BTU for each square foot of living space."
To Say This In TON Metrics We could also say:
we will need 0.0016 tons per square foot for residesntial air conditionig systems.
Notes: These metrics are based on average homes in Canada. Obviously, if you take heat loss, duct size age of you home into considerations, you can generate different numbers or formula for what we are trying to accomplish here. Alternatively, you can use our Online Tonnage Calculator To find out what size of AC suites your home.
2. SEER Rating (Efficiency): Average SEER Rating Start From 13 to 21 For Residential Air Conditioning Systems. Most Homes Use 13, 14, 16 & 18 SEER.
3. You Contractor Selection: Contractors have different prices and hourly rates for labour. Typically, the more reputable the contractor is the higher you will pay compared to a one-man show contractor. Due to the High costs of overhead and running a business bigger HVAC companies like Reliance and Enercare typically charge higher for installation of new Air conditioners in Toronto & GTA.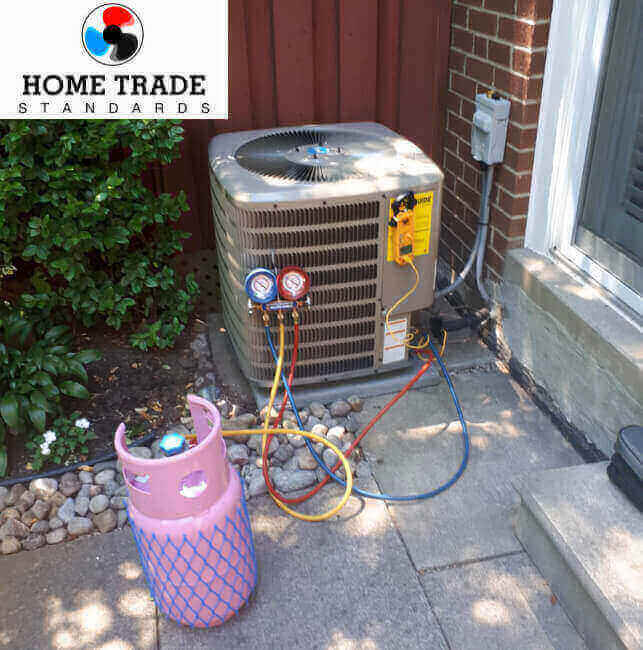 Home Trade Standards provides Air Conditioning Repair & Installation Services For All Types of Residential Air Conditioning Systems such as Central Air Conditioning, Ductless Heat Pump and Ductless Air Conditioner In Toronto & GTA. If you are looking to install a new Air Conditioner or replacethe old one, you are here at the right place. Home Trade Standards provides Removal, Installation, Replacement & Disposal Services forall types of Air Conditioning Systemsin the Toronto & GTA Area.
Here is a brief description of our A/C Services:
Air Conditioning Installation & Replacement
Air Conditioning Repair
Air Conditioning Maintenance
Air Conditioning Inspection
Looking For a Local HVAC Contractor? Here is Why We Can Help!
We Provide 1 Year Warranty For All Air Conditioning Repair & 10 Year For Installation Services
Free Inspection For Estimate & Quotation
A solid track record and no outstanding disputes
Verified insurance, licenses, and certifications
Factory Trained Technicians
We Are Certified To Offer Rebates
Central Air Conditioner Repair & Maintenance
Central Air Conditioner Repair & Maintenance become quite common between May and August In Toronto & GTA. Due to weather conditions in Ontario, Canada, the majority of households do not get to use to their air conditioning systems until early May.
We recommend air conditoner maintenance prior to heat waves in Toronto to ensure you're equipment is ready to work in hotter days of summer. Air conditioning maintenance includes cleaning the condenser coils and checking the evaporator drain. It is highly recommend to replace your old furnace filter every 3 months to ensure proper air flow in your home.
Central Air Conditioning Installation & Replacement In Toronto
Home Trade Standards provides installation & Replacement Services In Toronto & GTA area. If you are looking to replace your old air conditioner or add a new air conditioner to your house, we can help. Replacing or Upgrading Air Conditioner Systems includes the following steps:
Install a new condensing unit.
Install a new evaporator coil
Install the suction and liquid refrigerant lines
Install the electrical wiring
How Much Does an Air Conditioning Replacement Cost?
The Air Conditioning Market & Prices are much like the car industry. There are several factors that impact the price when you're shopping around for new air conditioners. You should consider efficiency SEER, energy savings, size or TON, maintenance costs, warranty, installation difficulty level and contractor distance from you.
Meth: The best price does not represent the best quote.
If you call three different HVAC contractors in Toronto and ask for a quote, you will receive three different pricing from each contractor. Sometimes you may see a drastic difference between quotes. Make sure to consider all the metrics mentioned above when you are evaluating quotations. The point is just because a quote is cheaper than another, doesn't speak on the value and scope of work being presented and follow troughed on.

How Much Does a Ductless Air Conditioner or Heat Pump Cost?
The average price of a new ductless or heat pump air conditioner replacement ranges from $2800 to $6000 plus applicable taxes. This price includes standard installation from a fully licensed technician. Most reputable companies will provide you at least a 1-year labour installation warranty along with a 10-year manufacturer part warranty.
How To Buy Your Air Conditioner System – Shop Online At HomeTradeStandards.com
At Home Trade Standards, we carry a variety of residential air conditioner types, mainly central air, ductless systems and heat pumps. You can select your preferred product(s) from Shop Now. We will install the order at your property as early as 24 hours. To learn more, please visit how it works.
Here at Home Trade Standards, we know the prices for units and material and labour costs. Our online Air Conditioner showroom allows you to go through a seamless process to buy an air conditioner system online with guaranteed peace of mind. We can perform installations as early as 24 hours. There is no middle man involved. We are an established Air Conditioning company that provides local HVAC services online. We believe in an excellent level of service, with all of our equipment being registered with the manufacturer's warranty.
How Do I Choose The Right Air Conditioning System For My Home?
To get an adequate scope on what you need for your home, we recommend obtaining the accurate square footage of your house; then proceeding to our Size Calculator to determine the exact size you will need. We recommend getting the correct size because undersized units run the risk of higher energy bills due to overworking and combating heat loss. Oversized units can make winter happen all over in your home again- and maybe outside as well with high costs.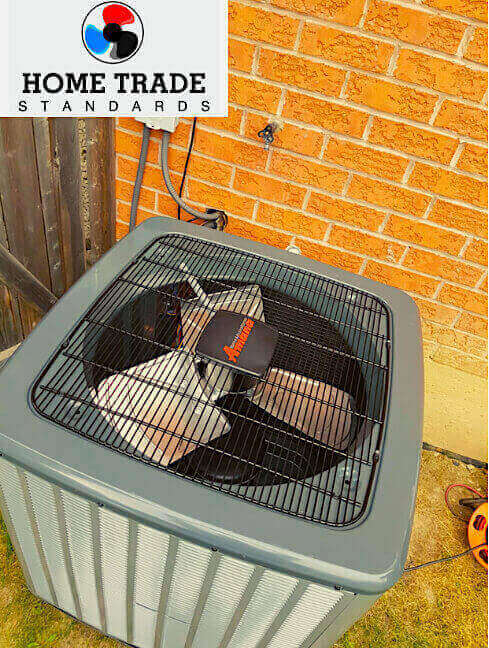 Make sure you select the right size for your Air Conditioner before purchase!
The "TON" of the unit you desire; standard residential air conditioners can range from 1 to 5 TON. This determining factor plays a crucial role in measuring the cooling capacity.
Three Common Air Conditioning Systems For Your Home
Ductless Heat Pump Heating & Cooling Systems
Ductless Air Conditioners
Central Air Conditioning Systems
What Are The Differences & Similarities Between Central Air Conditioners and Ductless Heat Pump Air Conditioning Systems?
Similarities:
All three systems use a refrigerant to transfer the heat inside your home and pump it outside. Hence, from a cooling perspective, all three systems use a similar operation method. However, all three systems have restrictions when it comes to doing a professional installation.
Differences:
A heat pump can provide heating and cooling in winter and summer, but a central air conditioner or ductless system only produces cooling. Central air conditioning cools the entire house, but ductless units only cool one room or selected zones. To avoid any surprises and unwanted costs, we highly recommend arranging an in-house or telephone assessment to go through a complete checklist with one of our air conditioning experts. They will be able to advise on the best location to install your unit inside and outside.
Top 10 Most Trusted Air Conditioning Brands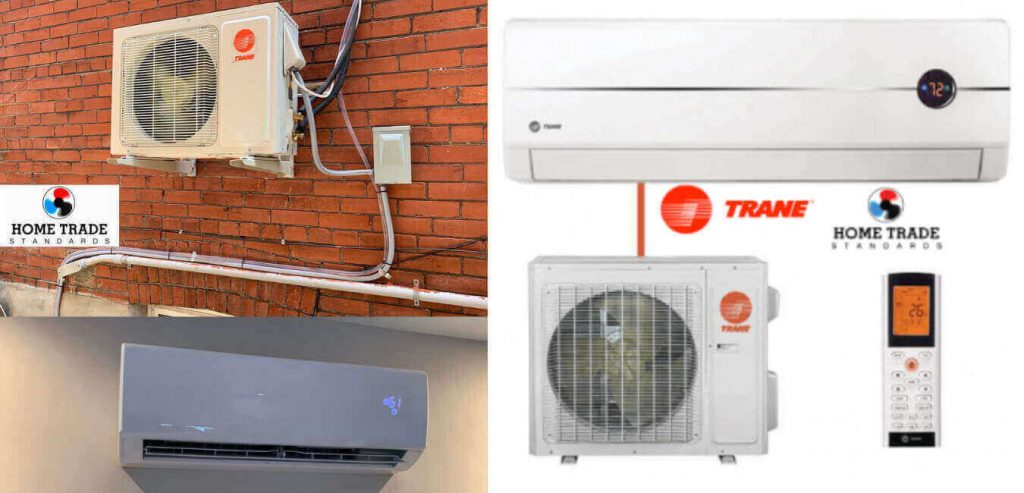 How To Measure The Efficiency of Air Conditioning Systems?
The "SEER" Seasonal Energy Efficiency Ratio, which measures the efficiency over the entire summer season. The higher the SEER, the more efficient the unit. Residential units are usually rated using this technique. Residential Air conditioner SEER ranges from 13 to 21 SEER.
Air Conditioner Repair Costs
Here are five common problems we often see during Air Conditioners Service Calls
Drain Problems: $120 To $300 Plus Tax
Electrical issues: $200 To $600 Plus Tax
Insufficient Refrigerant R-22 or R410: $200 To $700 Plus Tax
Refrigerant Leak & Leak Test: $300 To $1000 Plus Tax
Dirty Condenser Due To Lack of Maintenance: $120 To $350 Plus Tax
The 6 Common Air Conditioning Problems
We hear our customers every day. Here are six common problems reported during air conditioning service calls.
No Cooling or insufficient cooling
Extra Humidity
Poor Air Flow
Excessive (indoor or outdoor) Noise
Utility Bills Too High
System Does Not Start
We Offer Trade-In Rebates on Featured Air Conditioners!
We run different promotions from time to time. To get more information about our trade-in programs, simply call us to provide your existing system information first. Then we can provide you with your eligibility and rebate refund information.
Home Air Conditioning Inspection In Toronto & GTA
At Home Trade Standards, we always first check the general condition of your system. For instance, check for leaks, proper refrigerant charge, and malfunctioning refrigerant controls and motor controls. We also check for moisture in the system. Moisture in the refrigerant can form ice in the metering device, resulting in a gradual decrease in performance as the system operates.
Often the same blower, filter and duct system are used during both the cooling and heating seasons. The blower must be cleaned at least once a year. The motor should be lubricated (a few drops of SAE 30 oil)once or twice a year, if applicable, Air Filter should be inspected monthly and cleaned or replaced as need.
The Condensing unit should be checked and cleaned if needed once a year. The condenser especially should be blown clean of debris; Any bent fins should be straightened. Ca carbon dioxide blower or vacuum cleaner can be used o clean the unit. Pressurized washing wands are useful to clean the coils from the inside out.
Lastly, the evaporator coils should also be cleaned of any lint and have any vent fins straightened. Check condenser drainage. Condensate that escapes the drain pan may drip on the furnace heat exchanger, corroding rusting it. If the condensate drain is clogged, it may be possible to blow out the blockage using compressed gas.
Air Conditioning Scheduled Maintenance
Home Trade Standards provides homeowners with comprehensive maintenance to keep heating and cooling equipment working smoothly from season to season.
With our Cooling Maintenance Plans, our technicians will get to you quickly, with 24/7 services available, and an upfront scope of work determination with the prevention of over-time fees. Our service maintenance will troubleshoot potential problems and ensure optimal performance for your furnace.
Air Conditioning Rental and Financing Options For Toronto Homeowners
Home Improvement Financing programs are available for all new purchases. Our Air Conditioning rental or financing procedure is definitely one of the most affordable ways to replace your existing air conditioning system.
Financing an Air Conditioner Installation
Financing an air conditioner installation can be done through Home Trade Standards. We can set monthly installments for customers who wish to pay monthly instead of a lump-sum payment. The terms start from 1 year, and we can stretch it up to 15 years. The interest rate starts from 8.99 % depending on your credit.
Rental Air Conditioner Costs & Benefits
In Toronto, You can rent an air conditioner starting from $29.99 plus applicable taxes.
Most people rent because they want to make sure their air conditioning system is fully insured and paid for in case of a sudden mechanical breakdown. Rental options usually are 5, 10 or 15-year terms. During this term, the cont
Our Service Areas
What Our Clients Say About Us