Furnace Repair, Maintenance & Replacement Services In Toronto & GTA
We understand the priority to bring back the desired temperature in your home. That's our mission is to to provide the best residential HVAC repair & maintenance services in Toronto & GTA.
Our recommendation is to maintain your HVAC Systems before they break down! We highly recommend scheduling a maintenance appointment before high energy usage periods that require frequent energy consumption- such as December, January and February in Winter-or May, June and July in Summer to keep your furnace and air conditioner system working smoothly and efficiently all year round. Pre-scheduled maintenance saves you energy and money, so skip the "what-if's" and stay comfortable in all seasons with the Home Trade Standards Heating & Air Conditioning Service Plans.
We know you don't want to wait around once something has happened to your furnace or air conditioning, and you don't want repairs to cost a fortune. With the right preventative maintenance plan, you will ensure Air Conditioning & furnace the highest operation performance in the coldest and hottest days of the year, The maintenance plan offers priority booking with no overtime service fees 24/7 throughout the year.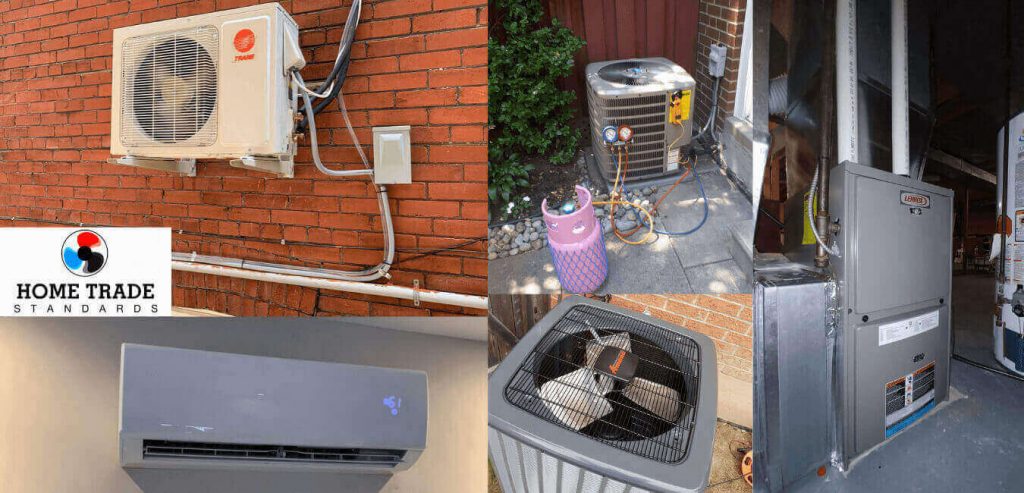 Here is what our clients call us for:
Gas Furnace Installation
Gas Furnace Repair & Maintenance
Air Conditioning Installation
Air Conditioning Repair & Maintenance
Water Heater Installation
Water Heater Repair & Maintenance
Boiler Installation & Service
Ductless Heat Pump Installation
Ductless Heat Pump Repair & Maintenance
Air Handler Installation
Air Handler Repair & Maintenance
AIRMAX High-Velocity Air Handlers
Home Furnace, Air Conditioner & Water Heater Repair & Maintenance Services!
Furnace repairs & maintenance services can be very important especially in the coldest months of the year. At Home Trade Standards, we try our best to help you mitigate the risk of a furnace breakdown when you need it the most! Your furnace is not blowing hot air? It is okay, you can rely on us! We can fix your furnaces.
Your air conditioning is not blowing cold air? That's okay. Simply schedule a service call with us and we will troubleshoot your air conditioner system for you.
No hot water in the house? No problem. Give us a call today to schedule an appointment with one of our licensed technicians to check out your electric or gas water heater?
Furnace Repair & Maintenance Services
Furnace maintenance is essential to the longevity of your furnace unit. Repairs on your unit when something goes wrong can help not only to fix the immediate issue especially when a no heat situation is involved, but regular annual furnace maintenance can also expand the life-span of the unit and ensure you're getting the most out of your purchase. There are many factors that contribute to furnace emergency repairs. That is why we offer annual furnace maintenance check and tune-up services. In every appointment, our certified Home Trade Standards technician will check the heat exchanger, blower motor, thermostat, pilot burner, flame sensor, and lastly- the filter! at least once a year, preferably before a season change.
Your Furnace Maintenance Checklist Includes
Our technician will inspect the following component on your furnace during your furnace maintenance appointment:
Heat exchanger safety & operation
Gas burner check
Check for proper venting
Furnace High limit and fan control check-up
Furnace Carbon monoxide (CO) level
Checking the combustion and ventilation air supply
Thermostat operation check
Condensate drain & blockage
Checking the circulating air blower
Checking the filter
Electrical connections inspection
Gas piping check-up
Exhaust fans check-up
Air Conditioner Repair & Maintenance Services
It's crucial to consider your options when in the market for a licensed technician to provide maintenance and repairs on your HVAC systems; especially your Central Air Conditioner, at Home Trade Standards we offer licensed, professional technicians that prevent further part issues and damages to your unit. Routine Maintenance can stop your Air Conditioner from not only breaking down but from doing so when you most need it, we recommend having a Home Trade Standards licensed technician to take a look at your unit at least once a year to ensure maximum reliability and efficiency. Diagnosing an Air Conditioner issue is no easy task, we ensure a full inspection report on every visit as well as a mandatory check that all of our technicians follow, they check the coil, thermostat, wiring, blower fan, and condenser fan. Home Trade Standards offers maintenance check-ups, contact us here for more details.
Water Heater Repair & Maintenance Services
Your water heater breaking down is the last thing you need to fix on your to-do list, regardless of seasonal changes- water heaters can break down at any point, we want to ensure you are covered when it does. Supply of hot water on a daily basis is a vital necessity for your home, we get that and that's why we provide maintenance, services and repairs for existing water heaters, in the long run, our objective is to ensure your hot water is working at the pace and temperature you want, whether the issue is major or minor- our licensed technicians can diagnose the problem and fix it.
Book Your Next HVAC Repair & Maintenance Appointments With Home Trade Standards
1. Emergency Repair Services: Call +1(416) 736-7001 To Setup an In-Home Service Appointment.
At a pre-scheduled time of your convenience, Home Trade Standards service technician will visit you at your home to review your systems' overall performance. If this is a repair call, they will run a whole system diagnostic to ensure we can get it back to work. We also consider many factors such as the age of your system, its repair history to make sure the homeowner is aware of the current status of the equipment.
2. Annual Maintenance Service: If You Have An Existing Home Protection Plan With Home Trade Standards.
When you sign up for one of our system protection plans memberships, you will receive an annual service tune on your equipment. Our professional service technician will complete thorough assessments of your systems. For furnace maintenance, for example, they will work through a comprehensive checklist that includes reviewing carbon monoxide emissions; checking gas valves, lines and connections for leaks etc. They can also advise you on the type of air filter, whether fibreglass, spun glass, polyester, pleated, electrostatic or washable, best suited to your system and for the level of filtration your family desires.
3. Warranty Services: Your Purchase Products Through Home Trade Standards Come With Warranty
Once the work is executed, we will register your equipment for a manufacturer warranty. We can also register you for an extended labour warranty upon your request. If your system breaks down due to a part failure, you can contact us. Our service team will contact you to discuss any questions that you may have relating the process. Each manufacturer has its own criteria for a limited part warranty. We will contact the manufacturer to facilitate the process of ordering the part. Once the part is shipped to us, then we will book your next appointment as soon as possible to have your system running again. We will review the work completed and ensure your satisfaction with the completed service. The part will be free of charge. The labour is also free of charge if you have purchased an existing extended warranty or protection plan prior to the failure.
We are Service Provider For Major Residential HVAC Brands – We Repair, Maintain & Install The Following HVAC Manufacturers:
Lennox
Carrier
York
Goodman
Amana
Trane
Nepolean
Coleman
American Standards
Daikin
Ameristar
AirMax High-Velocity Systems
What Our Clients Say About Us