PTAC Repair, Installation & Replacement Services In Toronto & GTA
Home Trade Standards is a trusted PTAC Repair & Maintenance Company in Toronto. We provide HVAC Services to Commercial, Condominium and Residential Properties. Our service technicians are accustomed to most well-known PTAC Manufacturers such as AMANA, ISlANDAIRE, PERFECT COMFORT, APPLIED COMFORT, CARRIER, MCQUAY, GE Zoneline and GE APPLIANCE.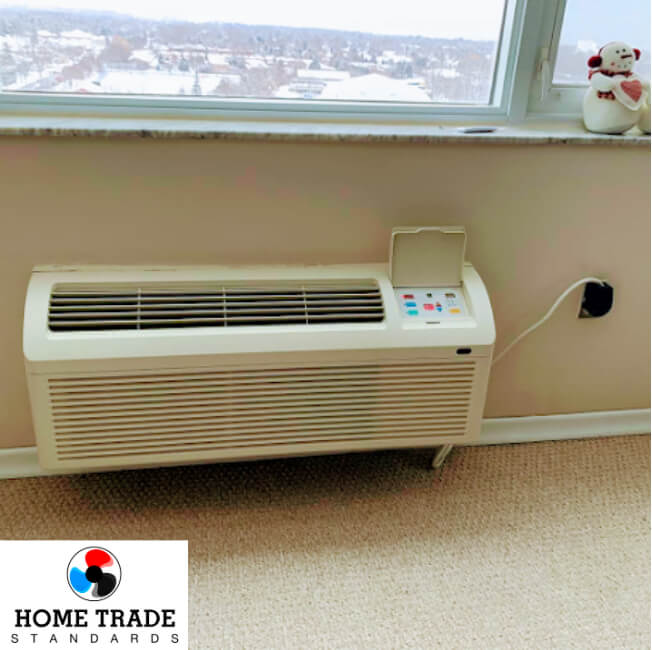 PTAC Units are frequently used in hotel rooms, condo apartments, dormitories, shops, offices, banks and restaurants.
If You a Property Manager or Homeowner, Contact Us Today To Get a Free Estimate Today!
We provide the following services for PTAC Units:
Emergency Repair
Annual Maintenance
Upgrade, Installation & Replacement
What Is Packaged Terminal Air Conditioners (PTACs)?
A Packaged Terminal Air Conditioner (PTAC) is the type of self-contained, ductless air conditioning system commonly used in hotels and condominium buildings. PTACs are installed in an exterior wall of a building. When a PTAC is installed, the condensing side of the unit is positioned outside the building wall and the evaporator side of the unit positioned inside. Often PTACs provide heating and cooling, though some may only be designed for cooling. PTACs are designed to condition air in an individual room or zoned part of a building.
Call Us Now (416) 736-7001
Home Trade Standards offers 24 hours live support for new & existing clients across Toronto & GTA.
PTAC Types
PTAC Units use different designs to provide heating or cooling using one of the following methods:
Electric Resistance Heaters: Electric resistance heat PTACs use electric resistance heaters mounted in the air distribution section of the unit. Usually, these units require 240-volt wiring to efficiently operate the electric resistance heaters.
Operating As a Heat Pump: A packaged terminal heat pump (PTHP) can reverse its refrigeration cycle in order to produce heat. Packaged Terminal Heat Pumps are generally suitable for geographical regions where temperatures do not typically drop below freezing. The control can be set for the desired temperature, and the unit automatically selects heat or cooling mode based on measured air temperature.
Operating As a Heat Pump With an Electric Resistance Heater: Heat Pumps produce heat up to three times more efficiently than electric resistance heating. In all but the coldest regions, a packaged terminal heat pump will significantly reduce energy consumption compared to a packaged terminal air conditioner equipped with electric resistance.
Gas-Fired Heating: Another type of PTAC is equipped with a gas-fired heater that uses electronic ignition and either LP or natural gas supplied to the system. The heater section of the PTAC is completely sealed off from the inside living space. It draws in outside air for combustion and exhausts the products of combustion to the outside as well. The heat of combustion is transferred indoors through a heat exchanger, which keeps the indoor air completely separate from the combustion air. One drawback of a gas-fired heater is that it requires a gas line to be run to the unit.
Notes: In Canada, All PTAC units work with R-22, R134A or R-410 Refrigerant.
PTAC Sizes & Custom Dimensions
PTAC Units are designed in different standard dimensions including 42×16, 36×15, 40×15 and 26×16 inches. Some older PTACs may have custom dimensions. We have seen many times when the dimension are not standard. In that case, we can help you with ordering a new custom made PTAC units.
PTAC Manufacturer Warranty:
At Home Trade Standards, we provide at least 1 year part labour warranty on all PTAC installations. In addition, Most PTAC Units come with a 6-year compressor warranty and 1 year limited part.
Our Service Areas
Contact Us
Home Trade Standards proudly provides complete HVAC solutions for Condominium High Rise Appartments, Commercial Buildings and Residential Homes in Toronto & GTA Area.
3983 Chesswood Dr, North York, ON M3J 2R8
What Our Clients Say About Us