Condo HVAC Repair & Maintenance Services In Toronto & GTA
Home Trade Standards has a designated team specializing in Low Rise & High Rise Condo HVAC Repair & Maintenance Services in Toronto & GTA.
We are experts in Condo HVAC Units such as Fan Coil, Heat Pump, Magic-Pak, Air Handler, High Velocity, Ductless Mini-Split, PTAC Air Conditioning & Heating Systems you currently use. We have helped hundreds of clients, including Condominium Corporations, Landlords, Tenants & Property Managers.
All Our Condo HVAC Repair Services are fully Guaranteed For at Least 1 Year Part & Labour.
Here Is What Our Clients Call Us For:
In-Suite Condominium Heating & Air Conditioning Repair Services
Condo HVAC Repair, Troubleshooting & Part Replacement
Condo HVAC Retrofit & Upgrade
Condo HVAC Removal & Installation
Annual Condo HVAC Maintenance
Condo HVAC Inspection & Report
Condo HVAC Repair Services For Common Elements
Condo Building Chiller & Boiler Services
Condo ERV Repair & Maintenance
Condo HVAC Repair Services – Update 2023
Since 2020, Our technicians have followed Ontario Health and Safety Protocols to ensure the safety of the residents in the residential condo buildings. We are also Fully Trained, Licensed & Insured to provide Condo HVAC Repair & Maintenance Services in residential Low Rise & High Rise Buildings In Toronto & GTA. If you are currently experiencing No Heating, No Air Conditioning, Bad Smell, Noise or Water Leakage In Your Condo, contact us today to book an inspection with one of our Condo HVAC Specialists. 

Condo Heating & Air Conditioning In Toronto & GTA
Every High rise Condo Building has a unique community, culture, and management policy. We understand that some In-Suite HVAC Systems are not part of the Common Elements in condominiums. Home Trade Standards provide Comprehensive Building & In-Suite HVAC Services for Toronto & GTA High Rise Condominiums.

Condo HVAC Replacement Costs
Condo HVAC Replacement Costs can range from $2500 to $8000 plus applicable taxes in Toronto & GTA. These costs can fluctuate from one condo to another based on the size of your apartment, HVAC type, and difficulty of the work being done. 
Home Trade Standards – Condo HVAC Services In a Nutshell: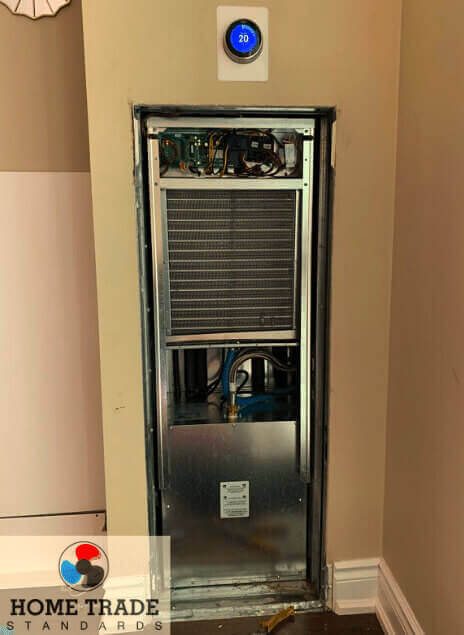 High Rise Condo Heating and Cooling Operation Check-Up
High Rise Condo Air Conditioning Repair & Maintenance Services
Condo Magic Pak Replacement & Service
Condo Air Conditioning Installation & Replacement
Condo Heating Systems Inspection
Condo Heat Pump Repair and Maintenance
Condo Fan Coil Repair and Maintenance
Condo Thermostat Replacement
Condo Magic-Pak Unit Installation & Replacement Services
Condo PTAC unit Repair & Installation Services
Condo HVAC Repair & Inspection
Condo HRV Maintenance & Repair
Condo ERV Maintenance & Repair
Condo Dryer Vent Repair & installation
Condo Heater Repair & Replacement 
Apartment Heat Pump Repair
Magic-Pak Repair & Maintenance Services
Vertical Stack Heat Pumps Repair & Maintenance & Installation
High Rise HVAC Replacement
Horizontal Heat Pump Repair & Maintenance & Installation
Residential & Commercial High Rise HVAC Inspection
Vertical Fan Coil Unit Repair, Maintenance & Installation
Horizontal Fan Coil Unit Repair & Maintenance
Blower Operation Check-Up and Maintenance
Blower Fan Repair and Replacement
Fan Coil Actuator Replacement
Filter Replacement and Clean-Up and Maintenance
Fan Coil Maintenance & Repair in Condos
Check Shut Off Valves
Water Source Heat Pump Service, Maintenance & Repair 
2 Way or 3 Way Valve Cartridge & Actuator Replacement
Coil Control Board Replacement
Reversomatic Dryer & Booster Fan Repair & Replacement
Fan Coil Remediation & Retrofit Services
Water Quality Inspection For All Corrosion, Scale & Deposit 
Condo Chiller Maintenance & Repair Services
Condo Boiler Maintenance & Repair Services
Which HVAC Manufactures Do We Service In Condos?
Home Trade Standards Provides Condo HVAC Repair, Maintenance, Replacement, Installation & Retrofit Services for the following Fan Coil Units, Heat Pump, Magic Pak & PTAC Manufactures:
Whalen Heat Pumps ( Whalen VI-A, VI-B and VI-C Series) – ( Whalen VP-A, VP-B and VP-C Series) ( Whale WG & WA Series)
Daikin Water Source Heat Pumps (GCV Vertical & Horizontal Water Source Heat Pump Models)
Climatrol Heating & Air Conditioning (Vertical Water Source Heat Pump)
ClimateMaster Water Source Heat Pump
Mcquay Water Source Heat pumps
In-Suit HVAC
InnKeeper Vertical Stack Water Source Heat Pump
Waterfurnace 
Johnson Controls
Carrier Heat Pumps
Mammoth Heat Pumps
Napoleon Condo Pack
Magic Pak Gas & Electric Units
Reversomatic
Nepolean Condo Pack
Suburban PTAC
Unilux Vertical Fan Coil
Temspec Fan Coil
Climetec Fan Coil Unit
Tempspec Fan Coil Unit
Islandaire PTAC Units
Perfect Comfort PTAC
Applied Comfort PTAC
AMANA PTAC
Airmax Heating & Cooling
and we service many more!
What Are Fan Coil Units In Condos?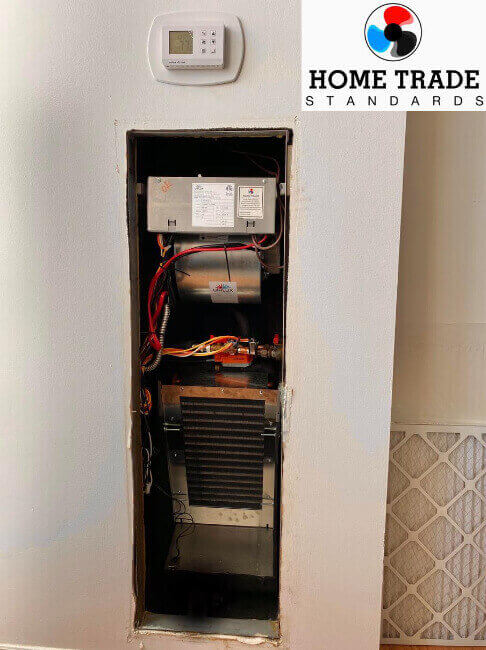 Fan Coil Units are the most commonly used heating & air conditioning systems in condominiums. These HVAC systems are typically the owner's responsibility in case of emergency repair or replacement. 
How Does a Fan Coil Unit Work In Your Condo?
In condominiums, a fan coil unit (FCU) is a standard heating and cooling system that works by circulating hot or cold water through a heat exchanger, along with a fan and controls that regulate temperature and airflow. The FCU system operates by drawing air through the unit and transferring heat between the air and the water. This results in the air being heated or cooled, depending on the temperature of the water.
During the winter season, your building's central heating system provides hot water from a central boiler located in the mechanical room. To warm up your condo, the Fan Coil utilizes the incoming hot water as a heating source. This is done by having the blower fan push the airflow across the coil, distributing warm air via the air vent registers in your suite.
When summer arrives, the building supplies chilled water through the central chiller and pump system. This chilled water travels through the coil inside the Fan Coil system while the blower fan blows the air across the coil, reducing the ambient temperature until the temperature on your thermostat is reached, satisfying your desired cooling needs.
During the transitioning periods between seasons, it's possible that your building may not have entirely switched to heating or cooling, which could mean that you may experience a lack of heat or cool air in your condo. Some Fan Coil units are integrated with an auxiliary backup electric heater which can provide heating during the months when the building's central heating system (boiler) is not turned on yet. Click Here To Learn More About Fan Coil 
Emergency Fan Coil Repair Services
Home Trade Standards Provides Emergency Fan Coil Repair & Maintenance Services for condo residents across Toronto & GTA. Our Technicians are factory trained, insured and licensed to do the work at your place of residence. Typically, an Average Fan Coil Repair Cost can range from $120 to $850 plus applicable taxes, depending on the work needed.
3 Most Common Condo Fan Coil Failures
Most Condo Fan Coil Systems use a simple design for maintenance and repair purposes. Actuator failure, blower fan noise and valve wear & tear are 3 common fan coil problems when we speak to our clients at Home Trade Standards. 
Another common issue with Fan Coil systems is Fan Coil freezing. Read a recent story about Fan Coil Freezing & Flood Hazard In Toronto Condominiums.
Condo Fan Coil Maintenance
Condo Fan Coil Maintenance is highly recommended to be completed twice a year. Maintenance work is typically scheduled in transitioning seasons, such as April & May or September and October. Some Condominium managements have a regular Fan Coil Unit Maintenance Program every year before the winter and summer seasons. Typically, your condo property management company will send you a notice to ensure all the residents are notified before entering your suite. You should always pay attention to all the posted notices in your building to avoid missing scheduled fan coil maintenance services done by your building contractor.
You can always count on us if your building does not offer a regular maintenance program. At Home Trade Standards, we offer Fan Coil Maintenance Programs for condominium owners in Toronto & GTA.
Did You Miss Annual Condo HVAC Maintenance Due To COVID-19?
COVID-19 may have impacted the scheduling of your condo's Annual HVAC Maintenance from 2020 to 2022 to prioritize the safety of residents and staff. If your building is not currently offering maintenance programs due to health and safety measures, it's important to proactively schedule regular maintenance visits to prevent unexpected mechanical failures or expensive water damage.
Condo Fan Coil Maintenance Checklist
Here is the ten (10) essential maintenance checklist our team offers during the Annual Condo Fan Coil Maintenance Visits:
Air Filter Replacement
Disassemble Cover
Vacuum The Entire System (Coil, Panel, Return Grill)
Motor Bearing Inspection
Mould Spray
Water Temperature Test
Test Fan Motor & Blower
Test Thermostat Operation
Test Actuator & Valve
Remove HRV & Vacuum (if Any)
Who is Responsible For Fan Coil Maintenance In Your Condo?
Annual Fan Coil Maintenance is typically arranged and coordinated through a property management company in your condominium. Although the Condo Fan Coil system consists of a few basic components, annual fan coil maintenance is essential to prevent a sudden breakdown during the coldest or hottest days of the year. Condo Fan Coil units deteriorate over time.
Here are 6 Common Fan Coil Problems We Noticed During Annual Fan Coil Maintenance Check-ups:
Clogged Coil Condition
Fan Motor inefficiency & Balance Due to Wear & Tear
Rust Inside The Fan Coil System Due To Improper Condensation
Fan Coil Units Mould Growth
Dirty & Clogged Filters
Drain Condensation & Leak Test
Fan Coil Retrofit & Installation Services For Older Condominiums
At Home Trade Standards, we offer Fan Coil Retrofit & Installation Services. Fan Coil Units in the older buildings require part replacement over time due to rust, corrosion, and wear and tear. If your fan coil is over 20 years, you may no longer benefit from repair and part replacement because a complete replacement will be more cost-efficient compared to investing money on an outdated fan coil unit.

New Fan Coil Replacement Systems are designed to fit the same cabinet cavity without going through a major renovation inside your condo, such as cutting drywall walls.
If your building is older than 20 years, please contact us directly to schedule an appointment for onsite building analysis. We work closely with individual condo owners, board members, and property management to deliver the most reliable Condo HVAC & Fan Coil Retrofit Services in Toronto & GTA Area.
How Long Does a New Fan Coil Replacement & Retrofit Take?
Fan Coil Retrofit & Replacement takes around 8 hours. Read more about what to expect before & after fan coil retrofit & replacement project.
What is a Magic-Pak Heating and Cooling System?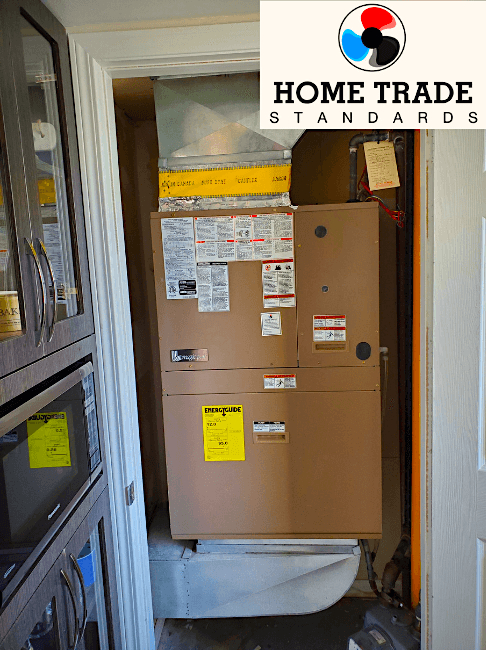 Magic-Pak is a self-contained heating and cooling system. It is an ideal solution for multi-family and mixed-use designs. These Units come in gas and electric models. 
How Does a Magic Pack System work In a Condo?
A Magic Pak Unit runs on a ducted outlet from the unit itself, but the big advantage of this unit is that you do not have to run any ductwork outside the house or your condominium.
In addition, no external refrigerant lines & no outside condensing unit are required. These units are individually controlled and operated. Gas Magic Pak Systems are common units in older Toronto & North York Condominiums. 
Magic Pak Repair & Maintenance Services
Are you looking for Magic Pak Repair & Maintenance Services For your Condo? Our technicians are fully licensed & insured to troubleshoot your systems in case you notice a malfunction with day to day operation of your Magic Pak system.
Magic Pak Installation & Replacement Services
If you are looking to install a new Magic Pak or replace the old one, you are here. Home Trade Standards provides Installation & Replacement Services for all Magic Pak Units in Toronto & GTA condominiums. The Most Common Magic Pak Systems are HWC Series. They come In 1 Ton, 1.5 TON, 2 TON & 2.5 TON Models.  Click Here To Learn More. 
Can I Replace a Magic Pack With Napoleon Condo Pack?
Yes absolutely. Napoleon is a Canadian-made brand from Barrie, Ontario. They provide perfect replacement solutions for Magic Pak Heating & Air Conditioning Systems. They come in electric & gas configurations. Click Here To Learn More!
Are you looking to replace your heating or air conditioner?
Contact us today to buy your next HVAC system!
Condo Water Source Heat Pump
Condo Water Source Heat Pump is one of the common HVAC systems in Toronto residential condominiums and high-rise buildings. These HVAC units use water as a medium to transfer heat from one medium to another. Water Source Heat Pumps absorb heat from water to the refrigerant when heating mode and dissipate heat from refrigerant to water when cooling is needed. They are among the most common Heating & Air Conditioning Systems in High Rise Condominiums. Condo Vertical Stack Heat Pumps consist of mechanical & electrical components. Here is what they consist of:
1. Electrical Circuit Board
Circuit Board communicates between the thermostat, blower fan assembly, and chassis when the user calls for cooling or heating.
2. Blower Fan Assembly
Blower Motor is a separate compartment sitting on the top of the chassis drawing the air across the coil and streaming it back to your condo space through one or multiple vents.
3. Heat Pump Chassis:
The heat Pump Chassis consists of the compressor, coaxial condenser, metering device, reversing valve, evaporative coil and electrical components. The chassis is the most expensive part of the condo heat pump.
4. Thermostat:
The thermostat controls heating and cooling settings. Your thermostat senses the ambient temperature. It performs based on the temperature reading within the space or room where it is installed. You can use basic or smart thermostats with Condo Heat Pump systems.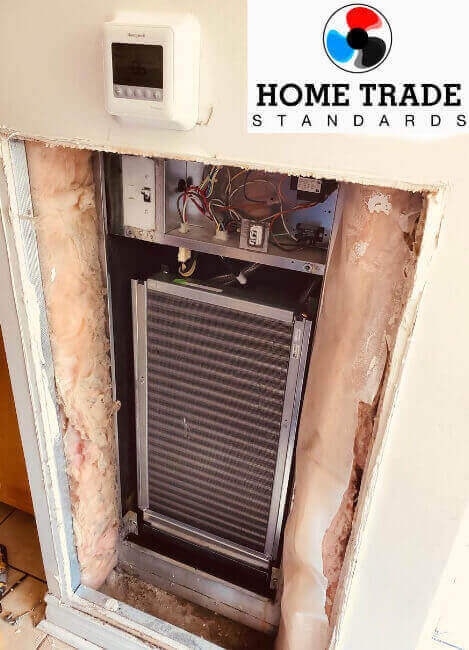 How Does a Heat Pump Work In Condos?
Condo Heat Pump Systems are independent systems installed in each apartment. These systems utilize R-22 or R-410 refrigerant to generate heat or cool within your space through refrigeration. Condo Heat Pumps are also known as Water Source Heat Pumps because they use water to extract or discharge the heat from or to the building water loop that circulates in a closed-loop system and branches off on every floor. The closed water loop system is a heat exchanger to cool down the compressor during summertime. In winter, the water loop prevents the heat pump system from freezing during the refrigeration cycle. Unlike the air-source heat pump, water source heat pump systems do not require an outdoor condenser. High Rise Condominiums with in-suite heat pump heating and air conditioning units should always maintain the temperature of the water supply lines between 65 F to 85 F to ensure proper functionality. When the water temperature falls below this level, the unit automatically shuts off intermittently until the temperature is back to the standard range. If your heat pump is blinking red light and requires frequent resets, please read our article about Heat Pump Flashing LPS Red Light. What Does It Mean?
Condo Heat Pump Systems come in two types of orientation: 1. Vertical Stack Heat Pump 2. Horizontal Ceiling Mount Heat Pump.
Condo Heat Pump Repair & Maintenance
Condo Heat Pump Repair & Maintenance is a professional In-Suite HVAC Service in Toronto high-rise condo buildings. Condominium individual owners or property managers must schedule regular Annual Heat Pump Maintenance Programs to avoid frequent heat pump downtime and repair costs. At Home Trade Standards, we offer Professional In-suite Condo Heat Pumps Annual Maintenance Services for condominium property managers and individual condo owners in Toronto & GTA. We also specialize in all Condo Heat Pump Repair & Troubleshooting. We have a designated shop & test center to troubleshoot all types of Water Source Heat Pumps. OMEGA, Whalan Company & Johnson Control Water Source Heat Pumps are the most common heat pumps in Toronto Condominiums. Our Heat Pump repair center can refurbish & restore all make and models such as Omega, Daikin, Johnson Control, McQuay, Waterfurnace, Carrier, ClimateMaster & Whalen Heat Pump Systems. These in-suite HVAC Systems can provide you with heating and cooling all year round and require to go through, proper maintenance annually.
5 Common Heat Pump Problems In Condominiums
Condo Heat Pumps can break down often due to the building's lack of HVAC and plumbing maintenance. 
Electrical Problems 
Actuator Malfunction
Compressor Failure
Heat Pump Low on Refrigerant
Condo Heat Pump Installation Costs In Toronto & GTA
Condo Heat Pump Installation can cost you between $3000 to $5500 plus applicable taxes in Toronto & GTA. Please note that Condo heat pump Installation costs can vary from one building to another. Every condo is unique, and every unit has a particular engineering specification.

Home Trade Standards provides Condo Heat Pump Installation Services for Condo owners in Toronto & GTA. Our services include Travel, Site Delivery, Truck Fees, Parking, Site Coordination, Removal, Installation & Disposal of old and new Heat Pump Systems. Our staff and technicians will walk you step by step to facilitate the replacement process from beginning to end. The installation process of a new condo heat pump system takes about 2 to 4 hours from start to finish.

What Heat Pump Manufactures Do We Repair & Service In Condo Buildings?
Home Trade Standards offers professional Heat Pump Repair & Maintenance Service For Condo Buildings in Toronto & Across GTA area. Our technicians have a working knowledge of repairing Vertical & Horizontal Heat Pump Systems in your condo.
Here are some of the major Water Source Heat Pump Manufacturers we service:
Whalen (VI, VP, and WG)
Omega (VI, HRP, VF, JCI)
Mammoth
McQuay
Daikin (GCV Water Source Heat Pump)
Carrier 
ClimateMaster
Water Furnace
Skymark International (VSCH, VSCB, VB)
Johnson Control (JCI)
OMEGA & Whalen Heat Pump Part & Service
Home Trade Standards is an authorized distributor, service provider and installation company for all Whalen & OMEGA Heat Pump product lines. You can contact us for the following parts:
OMEGA & Whalen Chassis 
Compressors
TXV Replacement
Filter Drier
Coil Cleaning
Steel Braided Water Line Hoses
Reversing Valve
Compressor Overload
Low-Pressure & High-Pressure Switch
Electrical Board 
Transformers
Relay
Booster Pumps
Retro kit Board
Capacitors
Blower Fan Motors 
Honeywell Thermostats 
Annual Heat Pump Maintenance In High Rise Condo Buildings
Home Trade Standards offer an extensive Heat Pump & Fan Coil Maintenance Program for condominiums in Toronto & GTA area. Our clients are usually property managers, hotels, and commercial buildings. It is recommended to have your HVAC system serviced before the heating and cooling seasons. Condo HVAC Maintenance Services include thoroughly cleaning each in-suite HVAC unit, filter replacement, and lubricating all necessary parts. Our technicians are trained and licensed to provide in-suite HVAC services for condos across Toronto & GTA.
Regular maintenance programs on in-suite units will increase the life span of HVAC systems. The quality of heating and cooling produced by your system is also significantly improved with the annual HVAC service. We can also offer priority service & special rates to all customers enrolled in our maintenance programs.
Read Our Recent Articles About Noisy HVAC System In Toronto Condominiums. Toronto Condo Owners Frequently Asked Questions.  
What is the PTAC Unit?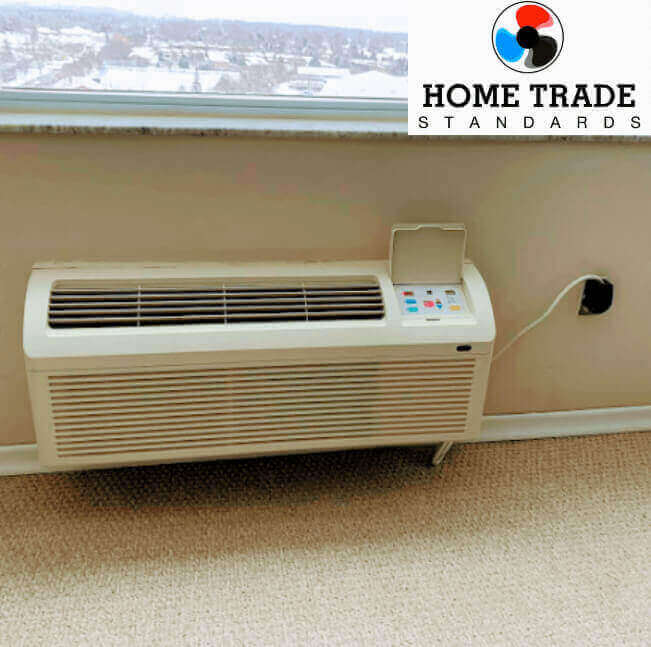 PTAC Units or Package Terminal Air Conditioners are stand-alone heating and air conditioning units often seen in residential highrise condominiums and commercial buildings such as hotels, motels, and retirement homes. Home Trade Standards has working knowledge in servicing these units, and we provide Condo HVAC Repair & Maintenance Services For PTAC Units throughout Toronto & GTA. These systems operate independently from the rest of the buildings. 
Condo PTAC Unit Installation Services
Home Trade Standards is partnered with many major PTAC Unit Manufacturers & Brand Names. We proudly offer the most affordable PTAC Replacement & Installation Services for the following brands in Toronto & GTA.
Islandaire
AMANA
Carrier
Chrysler
Perfect Comfort
Applied Comfort
LG PTAC Units
GE Appliance
Enersaver
Keeprite
McQuay
Singer
Zoneaire
Retroaire
Chromolax
Snyder General

What Is The Difference Between Non-inverter & Inverter PTAC Units?
Non-inverter PTAC runs the compressor at full RPM capacity. Compressor cycles at full capacity when it comes to ON & OFF. Hence, it wastes substantial amounts of electric power and hence, consumes more energy.
Inverter PTAC reduces the compressor RPM cycle to increase the heating and cooling efficiency rating required for power consumption.
PTAC Warranty:
At Home Trade Standards, we provide at least 1 year part labour warranty on all PTAC installations. In addition, Most PTAC Units come with a 6-year compressor warranty and 1 year limited part.
5 PTAC Unit Maintenance & Troubleshooting Tips
If you are experiencing problems with your PTAC units, please consider checking the following to ensure the longevity of your unit:
Check your circuit breaker to ensure the power is still ON
Plug out and Plug the unit back in again
Change the filters regularly.
Ensure the return air grille is not blocked
Make sure the coil is clean otherwise, the unit will consume more energy, and debris block the airflow.
PTAC Repair & Maintenance Services
Home Trade Standards provide PTAC Unit Repair & Maintenance Services for Toronto & GTA Condominiums, Hotel Owners, Schools & Retirement Facilities.
Condo HVAC Financing Options For Homeowners
Home Trade Standards is pleased to offer our customers financing options to condominium residents who seek to use our services. We understand that this can be an expensive project. That is why we proudly offer flexible HVAC financing options to our clients in Toronto & GTA. Our financing program is fast, simple and secure. We do have high approval rates with flexible repayment plans.
Affordable monthly payments – with automated bank withdrawals to help reduce stress
Flexible payment terms from 12 to 180 months
Deferred payment or No payments for up to 12 months
Equal payment plans
High approval amounts up to $25,000
Low minimum transaction size – as low as $1,000
Lump-sum payments | open loan program
Early payout option – pay off your principal at any time
Competitive interest rates starting from 8.99% – to help you manage your budget
Minimize large upfront costs.
Ask us today for more information.
Pro Tip: One of the common mistakes in condos is blocking the grill door where your HVAC system is located. Remember, your HVAC system does not use the air from outside; the air comes from inside to cool or heat your place. So it's a good idea to open your windows regularly and avoid blocking the grill door with your furniture.
Call Us Now at (416) 736-7001
Home Trade Standards offers 24-hour live support for new & existing clients across Toronto & GTA. Call Us Now For all your Condo HVAC Repair inquiries. 
Our Service Coverage Areas
What Our Clients Say About Us