By: Kevin Moeini
We receive a lot of service calls for Noisy HVAC Systems in low-rise and high-rise residential condo buildings. These noises are usually described as Sharp, Banging, Rattling, Clicking, or Ticking Sounds. We understand your concern with the Noise In Your Condo as it creates discomfort throughout your day. Therefore, I would like to elaborate on this issue in the article to have a better understanding of our audience.
Here is a few examples of how our condo customer described the noise when they call for service. I will lay out all the instances because you may be experiencing the same:
The Noise starts as soon as I turn on my thermostat.
A rattling noise happens continuously when the fan starts blowing air
The noise comes on and off. I mostly hear The noise during nighttime
There is a noise in my HVAC system even when the unit is off.
I had no problem with my HVAC system in the Summer but now I hear a noise behind the walls in my condo.
To get started, I'd like to leave a disclaimer here for our readers. Every condo uses a unique Heating and Air Conditioning System. These issues can vary from one condo to another and for the sake of this article, we cannot fully describe all the issues here because you would need a Licensed Condo HVAC Technician to inspect your system before coming to a full conclusion.
Common Problem 1. The Noise Starts As Soon As I Turn On My Thermostat.
If you use a Fan Coil System in your condo, there may be a chance for your actuator and two or three-way valve to be malfunctioning. These valves are responsible to bypass the water through your fan coil system. You can hear sharp banging noises in the condo if the valve is not able to move properly due to mechanical failure. By replacing the actuator and the valve you may be eliminating the sharp banging sound.
Common Problem 2. A Rattling Noise Happens Continuously When The Fan Starts Blowing Air.
Normally this noise is related to your fan motor assembly. Over time, the Fan motor inside your HVAC system starts to go out of balance due to mechanical wear and tear. Therefore, the motor may be touching the surface of the blower assembly. This is another common issue in condos that can be resolved by replacing the blower motor.
Common Problem 3. The Noise Comes On & Off.
If you are using a heat pump system in your condo, it is normal for the compressor to have a clicking sound when it turns off and as soon as it hits the desired temperature. The compressor is basically an engine for your HVAC system. This engine runs through a basic refrigeration cycle to provide heating and air conditioning in your space. An average condo heat pump lasts between 6 to 8 years. Some heat pumps may last longer if you do Annual Condo HVAC Maintenance on regular basis. The lifespan of a compressor can be compromised if you decide not to change the filter or do annual maintenance. Therefore, the compressor can start making a rattling noise over time to indicate mechanical malfunction. This noise may not be repairable due to the excessive costs of replacing a compressor. Please also keep in mind that compressor noise may also be indicating that the unit is running low on refrigerant and need to be recharged R-22 or R-410 by a licensed refrigeration technician.
Common Problem 4. There Is a Noise In My HVAC System Even When The System is off. I Mostly Hear The Noise During Night time.
Although, many people think that this may be from the HVAC system in your condo we interestingly found out that this could be due to water velocity inside the plumbing system of your condo. High-rise buildings in Toronto use powerful pumps to supply hot, cold, or domestic water to your suite. Sometimes due to poor engineering design or building plumbing issues, the noise may be echoing within your space. This noise can be triggered on the coldest or hottest nights of the year when all the HVAC systems in the building are being used at the same time. Therefore, we have an increase in the water supply velocity to feed all the HVAC systems in the building. This process can cause excessive noise in some units due to poor plumbing infrastructure.
5. I Had No Problem With My HVAC System In Summer But Now I Hear Noise From My Condo Heater Behind The Walls.
There are two types of fan coil systems in Toronto. 2 Pipe and 4 pipe fan coil systems. 4 Pipe fan coil system uses 2 actuators. In simpler words, this means that the valves responsible for the heating section of the fan coil are different from the cooling section. Therefore, you hear the noise in winter when there was no noise in the summertime. By replacing the heating side actuator, you may eliminate the clicking sound in your condo.
Schedule an Annual HVAC Maintenance Appointment With Toronto Condo HVAC Experts
By scheduling a Seasonal or Semi-annual Condo HVAC Maintenance for your Toronto Condo Apartment, you can have peace of mind about the potential for emergency Condo HVAC Repairs in the future. Our experienced Condo HVAC Experts will thoroughly check your system's components and parts to make sure they are operating as they should and will continue to do so for the foreseeable future.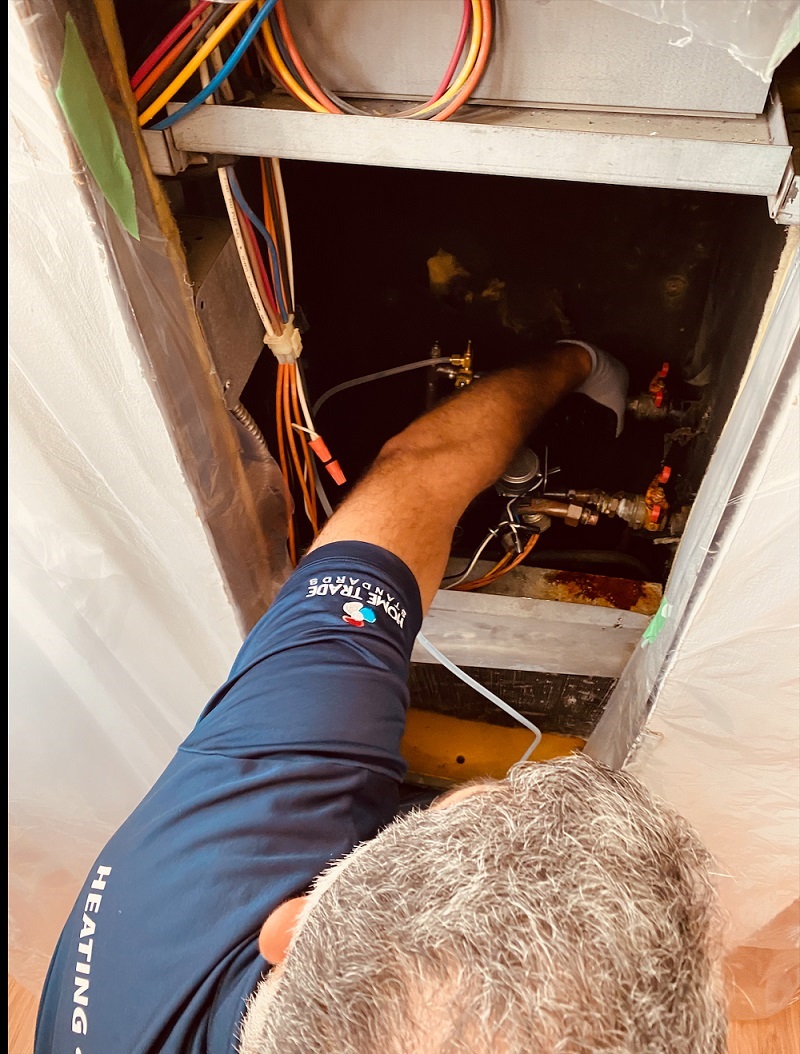 We have working experience with different HVAC equipment and systems in condos. You can rely on us to help you identify potential issues that could require immediate action, rather than you having to deal with any future surprises.
Is My Condo HVAC System Still Under Warranty?
High Rise Developer and New Construction Condos only provide a 2 Year Comprehensive Warranty through Trion. Tarion is a non-profit, private corporation established in 1976 to protect the rights of new home buyers and regulate new home buyers and builders. According to the terms of the Ontario New Home Warranties Plan Act (the "Act"), If your condo is over 2 years old, you're most likely not eligible for this warranty.
Make sure you carefully read your condo's bylaws before you purchase a new condo to understand what would be covered. Most property management does not deal with condo HVAC issues. Hence, it is the individual owner's responsibility to deal with Sudden Heating & Air Conditioning repairs or break downs in your condo.
Let Experts Service Your Condo HVAC System
Home Trade Standards has a designated team that specialized in High Rise Condominium HVAC Services in Toronto and GTA core areas.
We are Experts in All Condo HVAC Units such as Fan Coil, Heat Pump, Magic-Pak and PTAC Heating & Air Conditioning Systems you currently use.
Here Is What Our Clients Call Us For:
In-Suite Condominium Heating & Air Conditioning Repair Services
Condo HVAC Troubleshooting & Part Replacement
Condo HVAC Retrofit & Upgrade
Condo HVAC Removal & Installation
Condo Annual HVAC Maintenance
Condo HVAC Inspection & Report
Condo HVAC Services For High Rise Mechanical Systems
Condo Building Chiller and Boiler Services

We have helped hundreds of clients including Condominium Corporations, Landlords, Tenants & Property Managers who contact us from one season to another as part of our ongoing practices. We fully Guarantee Our Services for 1 Year For all Small & Big Projects.
Currently, we offer a Comprehensive HVAC Maintenance Program to all Residential, Commercial & Industrial High Rise Buildings In Toronto & GTA Area. Our Technicians are Trained, Licensed & Insured to provide Annual Condo Heating & Air Conditioning Maintenance Services.