Our clients often ask, "what is the best heat pump for my condo?"  We are restricted by Condo HVAC requirements, space, compatibility, and liability issues in a condo environment. Therefore, we may only have a few choices when selecting the correct replacement heat pump system for your condo.
Condo Heat Pump System
Condo Heat pump is different from traditional air-source heat pump in residential homes. Residential Heat pumps have to have two systems connected; one indoor & one outdoor (condenser). They are also known for ductless heat pumps or mini-splits. Condo Heat pumps are also known as Water Source Heat Pump Systems. 
Condo heat pump systems are package units, and there is no requirement to have an outdoor condenser connected to it.  
How Does a Heat Pump Work In a Condo?
Water Source Heat Pumps use the building water loop system to dissipate and extract the heat during refrigeration cycles. In the air source heat pump, this cycle happens via the outdoor heat pump unit, where the fan dissipates the heat into the air. 
Where Is The Heat Pump Located In My Condo?
Condo Heat Pump Systems are located inside a closet or through the wall in a cabinet space. The heat pump's electrical & mechanical compartments are accessible through an access panel door. 
Here we can briefly elaborate on each limitation.
Condo Heat Pump Installation Requirements
Although condo water source heat pump units are individual HVAC systems, they are connected to the building's common elements Plumbing, Boiler, Cooling Tower, Heat Exchangers & Pumps. Each heat pump is designed to operate within a specific water temperature & flow range. Low or inadequate water flow or temperature can result in heat pump malfunction, such as intermediate shutdowns & resets. Therefore, replacing your heat pump with another manufacturer may not always be a good idea since your building has specific designs and requirements for each apartment.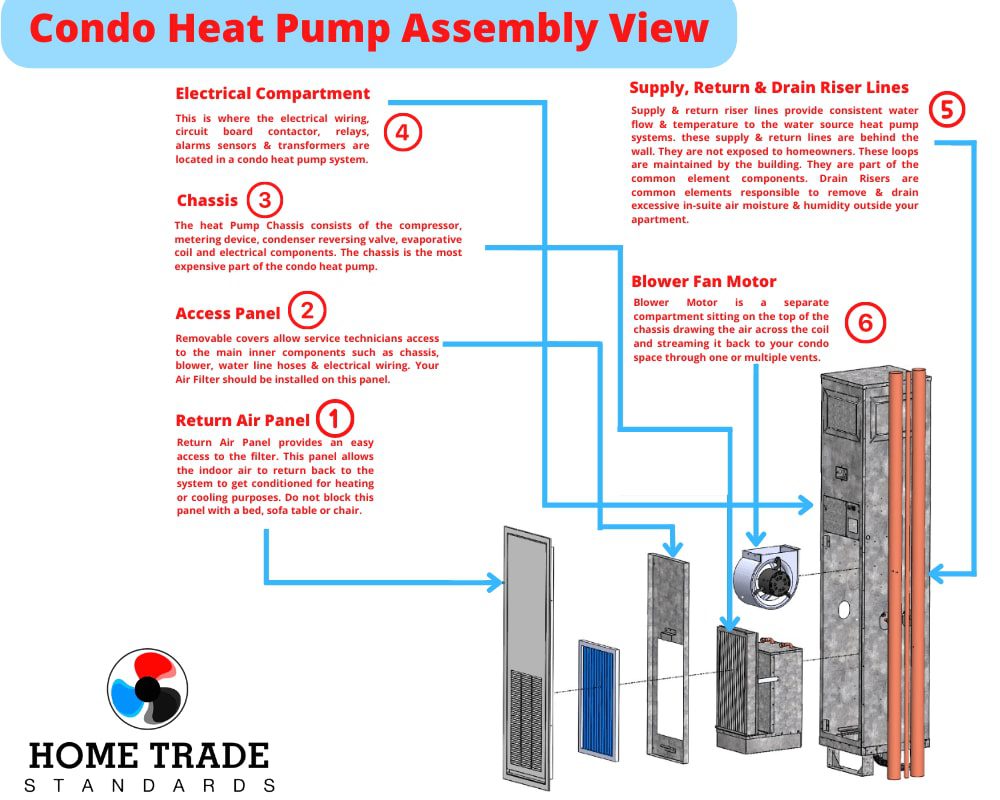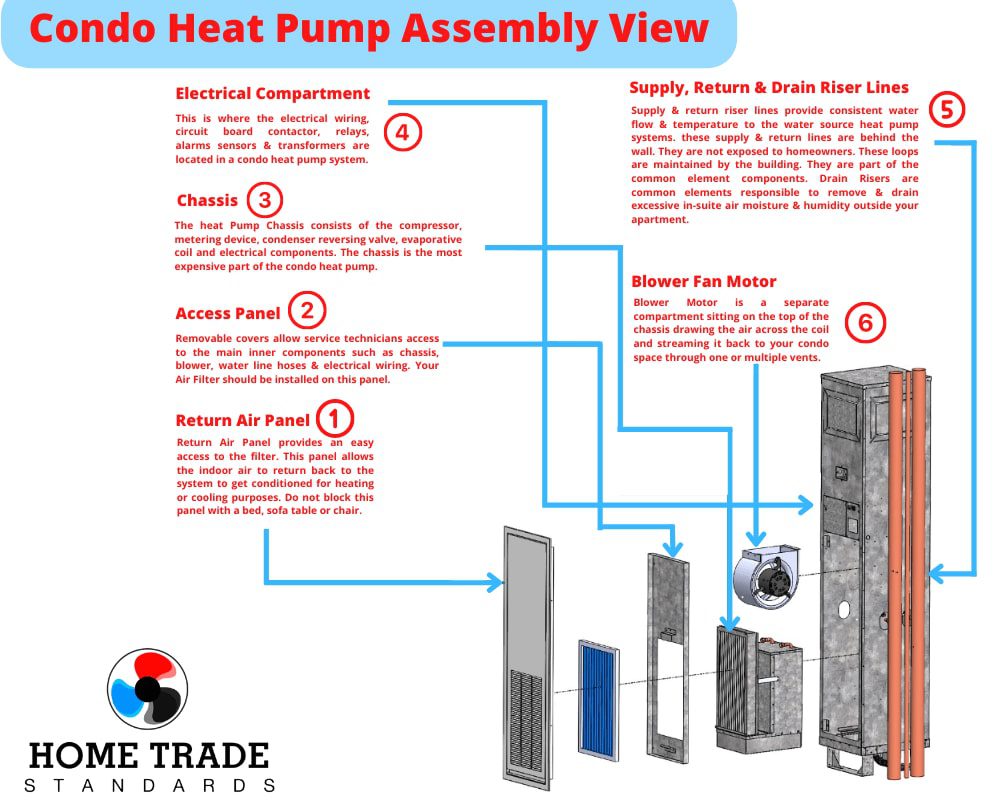 Condo Heat Pump System – Cabinet Space
Condo heat pumps are located in a tight cabinet space inside the wall cavity. These HVAC systems come in different dimensions & design specifications. There are various types of heat pump manufacturers in the market, but not all have the same specs, designs,  and dimensions. Therefore, we have a space limitation when trying to replace an existing heat pump with a newer model. 
Compatibility 
Condo heat pumps consist of mechanical & electrical components. When replacing a heat pump, you only need to replace the mechanical compartment (Chassis), not the electrical (circuit board). Therefore, it is best always to replace your heat pump with the same manufacturer to avoid further compatibility issues in the future. Please keep that in mind, replacing a circuit board may increase the costs of parts & labor. 
Liability Issues 
There are a lot of unknown brands and custom manufacturers in the market. Living in a condo comes with a lot of responsibilities against your neighbours. Condo heat pumps can cause floods, leaks, or even unwanted noise if not designed or installed correctly. We recommend installing reputable manufacturers with proper track records to avoid future downtime and liability problems.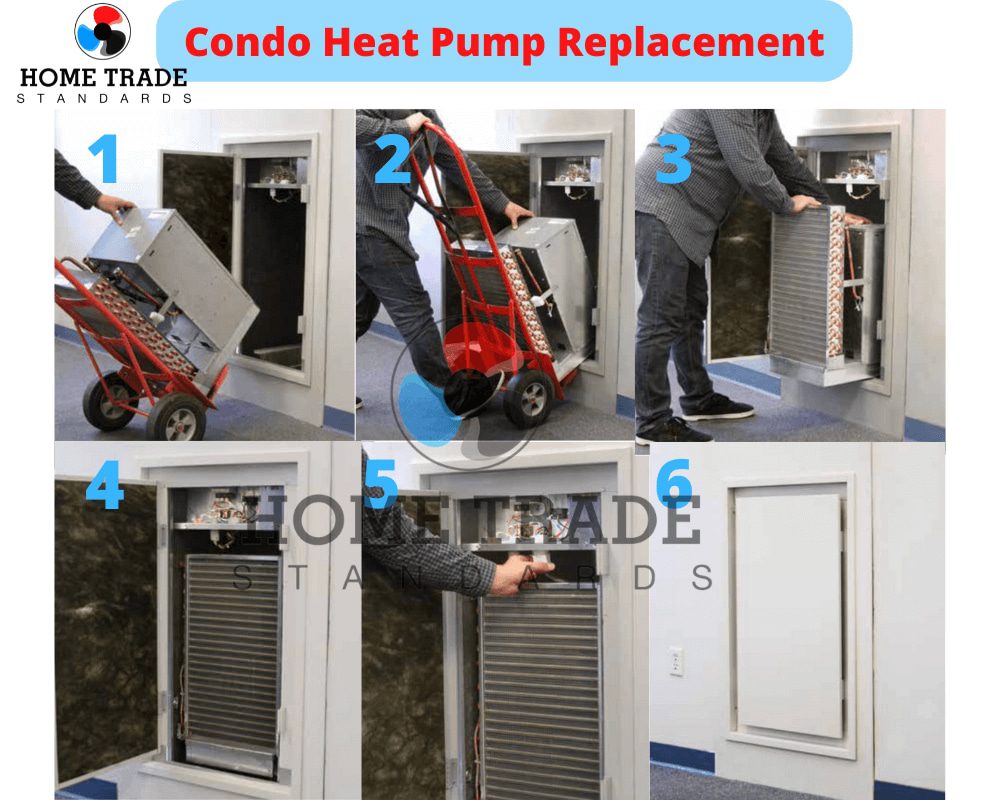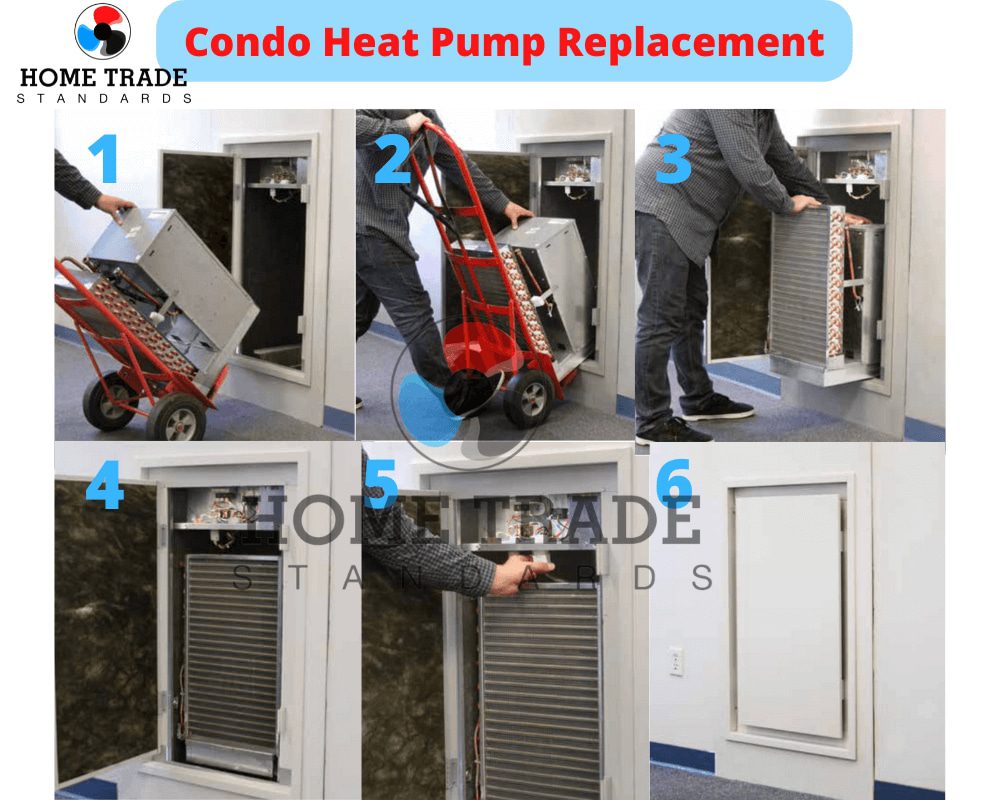 What are the best heat pumps for condos?
If you are currently looking to replace your existing condo heat pump units. We recommend the following manufacturers. Please note that you must follow your condo requirement before selecting any of these systems. Not all of the following manufacturers are compatible with one another. 


Omega Heat Pumps
Omega Heat Pumps are the #1 HVAC solution for residential and commercial water source heat pump applications. Omega replacement heat pump chassis are dimensionally identical to many different manufacturers. They designed and built the chassis according to the requirement of many buildings in North America. Due to the simplicity of design, Omega is the preferred choice for a simple and easy installation. All OMEGA heat pump systems come with 1 year part & labour and a 5-year compressor warranty. Omega offers the most affordable heat pump solutions in Toronto & GTA.  If you have one of the following heat pump systems Omega Heat Pump Chassis can be used for replacement: 
Whalen Vi & VP Series
Enerzone HRP Series
Johnson Control VSCS
Skymark Heat Pump
Climatemaster HCA Series
OMEGA HRP Series
OMEGA RPC Series
Aquatherm Heat Pumps
Unilux Heat Pumps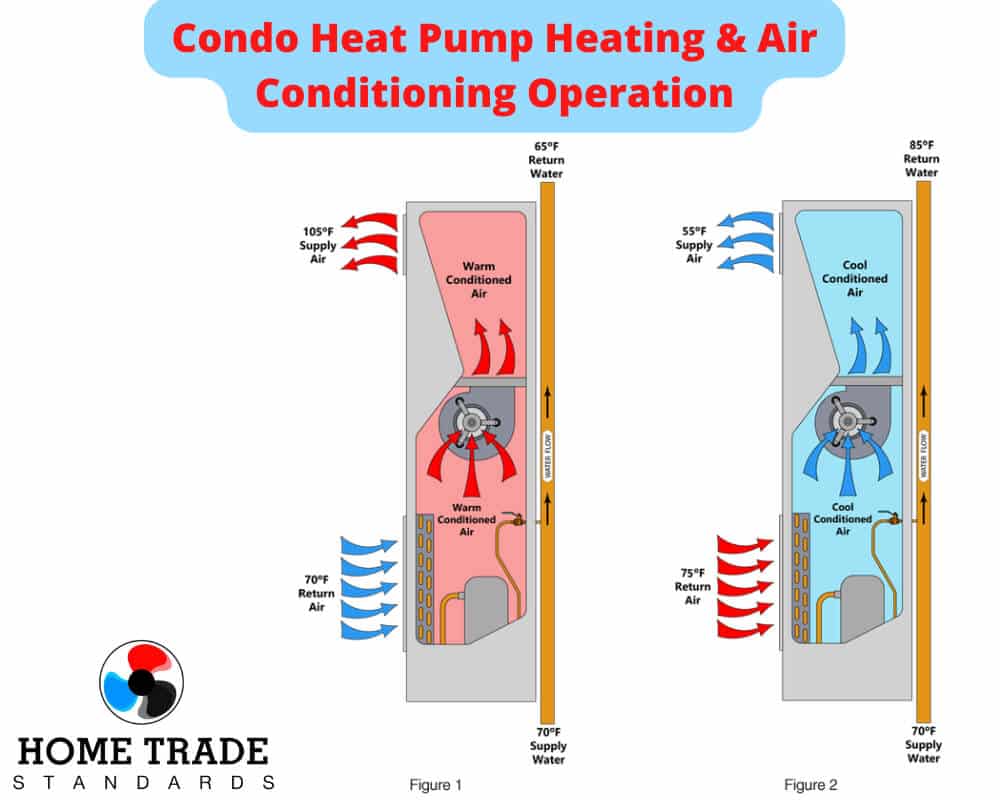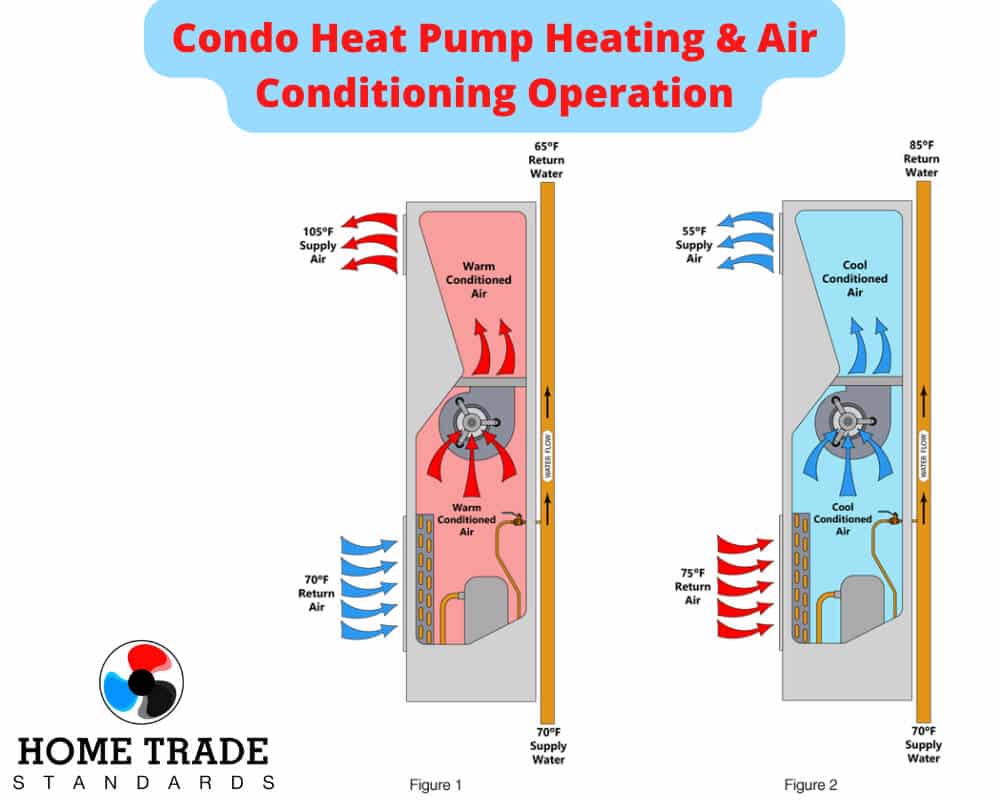 How much does it cost to install a Condo Heat Pump In 2023?
Condo Heat Pump Installation can cost you between $3000 to $5500 plus applicable taxes in Toronto & GTA. 
Whalen Company Heat Pumps
Whalen Heat Pumps are one of the older heat pump systems on the market. They have a track record of over 25 years in the condo space. Whalen Company offers quality, and reliable water source heat pumps to low-rise and high-rise buildings. The installation and replacement process is quite simple. The warranty is 1 Year Part & Labour. These heat pumps are available from 0.5 TON to 2.5 TON Chassis. 
Whalen Heat Pump Chassis is the perfect solution to replace the old
Whalen Heat Pump Vi & VP Seris 
OMEGA Vi Series
Whalen Heat Pump Installation 
Whalen Heat Pumps are known for their simplicity and easy installation process. Here is a six (6) steps process for installing a Whalen heat pump chassis. 


Daikin Water Source Heat Pumps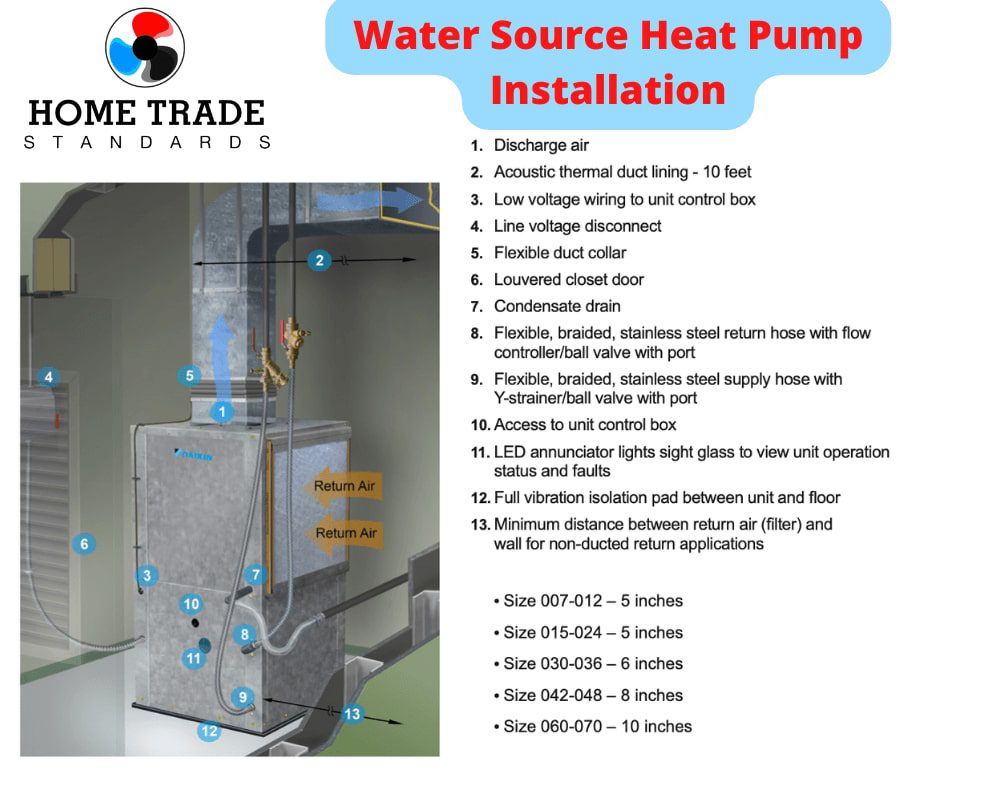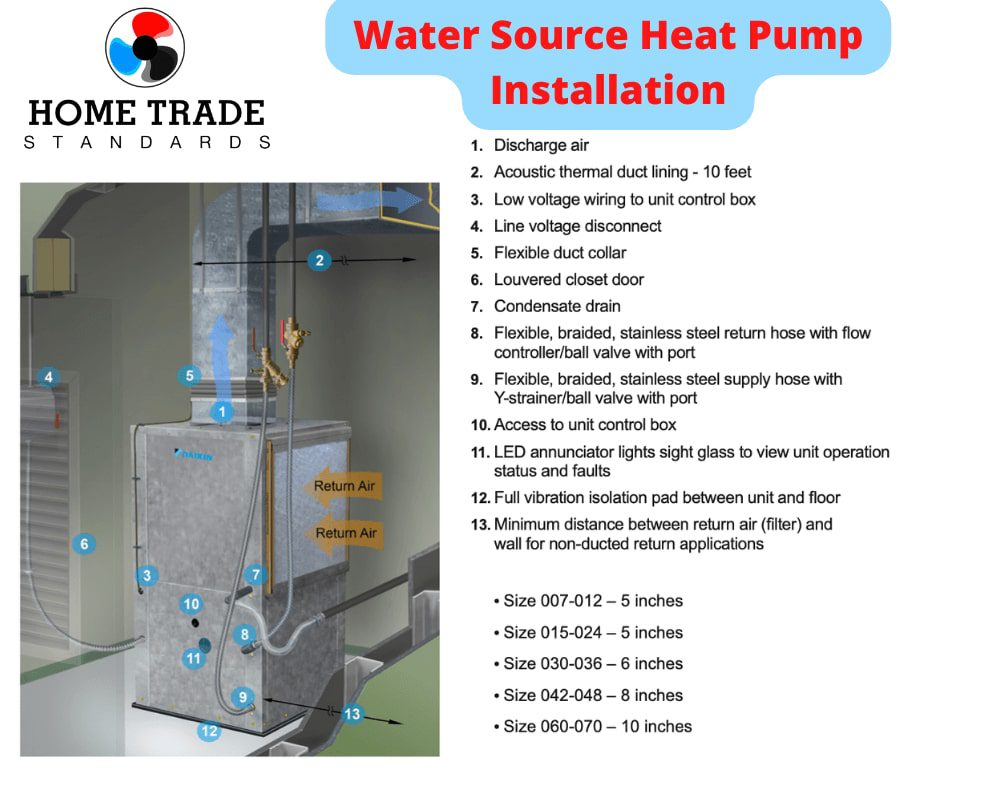 Daikin Vertical Water Source Heat Pumps (WSHPs) are perfect solutions for residential high-rise condominiums and light commercial HVAC applications. Daikin offers inexpensive energy-efficient solutions for existing old vertical water source heat pumps. Although they are small, they have high-performance abilities with advanced control options. EC motors, adjustable airflow settings, dehumidification, and waterside economizers are just several significant examples of high-performing features of this equipment. Daikin GCV Series offers one of the best water source heat pump systems in the Toronto high-rise market. Daikin Heat Pump Systems are efficient and low-cost in operation.
They also come in two different configurations: 1. Horizontal 2. Vertical. 
They are the most reliable replacement options currently available in the market. Daikin offers 1 Year of Part & Labour as well as up to 5-year compressor warranty.
Daikin (WSHPs) Water Source Heat Pump System is a Perfect Replacement System For  the following Water Source Heat Pump Units in Condo & Multi-Residential Apartments: 
Carrier
Climatemaster
Trane
McQuay
WaterFurnace
Johnson Control
How much does it cost to install a Water Source Heat Pump In 2023?
Daikin Water Source Heat Pumps installation for residential apartments can cost between $6000 To $9,000 for vertical applications and between 8,000 and to 13,000 for horizontal applications. Taxes are not included. 
Next: Condo Heat Pump Repair & Maintenance
Click Here To Learn More About Condo Heat Pump Repair & Maintenance Services In Toronto & GTA.